'Conservative Republican' Christie Takes Shots At Obama: 'President Who Can't Figure Out How To Lead'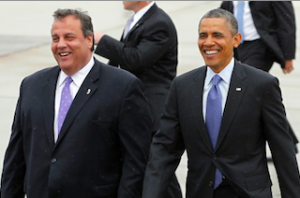 New Jersey Governor Chris Christie continued to track to the right Friday during a town hall meeting in Sussex County after condemning the Supreme Court's marriage equality rulings earlier in the week. According to The Star-Ledger's Jenna Portnoy, Christie touted his "conservative Republican" credentials began criticizing President Obama within the first 10 minutes of the event.
"I know when you look at Washington right now, you shake your head at a president who can't figure out how to lead, at a Congress that only 11 percent of the people in the last poll I saw approve of the job they're doing," Christie told the crowd of hundreds assembled in a high school gym to see him.
"That's what happens when you have someone in the executive office who is more concerned about being right than he is concerned about getting things done," he added. "But I'm not going to be that kind of leader of New Jersey."
Christie twice used the word "conservative" to describe himself, saying, New Jersey voters elected "a conservative Republican governor and a Democratic Legislature" and later saying he is set to sign a new budget despite the fact that it contains some compromises with his Democratic colleagues. "That's not bad for a conservative governor in a state like this," he said.
The governor's harsh words towards Obama come just one month after he and president posed for photos and played games together on the reconstructed boardwalk of the Jersey Shore.
—
>> Follow Matt Wilstein (@TheMattWilstein) on Twitter
Have a tip we should know? tips@mediaite.com