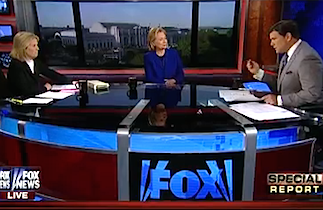 When Hillary Clinton sat down for a highly-anticipated joint interview with Fox News anchors Bret Baier and Greta Van Susteren Tuesday evening, the cable news network's viewers were likely ready for some sort of epic showdown. And while Baier and Van Susteren certainly grilled Clinton on topics like the 2012 attack in Benghazi and the release of five Taliban detainees in exchange for U.S. Sgt. Bowe Bergdahl, it apparently did not live up to viewer expectations.
A look at the #HillaryFoxNews hashtag, promoted by the network for reactions on the interview, reveals that most viewers think Baier and Van Susteren went way too easy on the former secretary of state. The general consensus seems to be that Fox gave Clinton a bunch of "softballs."
Below are some highlights:
@BretBaier stop soft balling! #HillaryFoxNews

— Johnny (@kysongdog) June 17, 2014
#HillaryFoxNews Greta and Bret throwing some pretty soft cotton balls there….

— PATRIOT V (@Chair_for_0ne) June 17, 2014
We know Murdoch likes Hillary. Is this why this interview is so soft and friendly, even from Bret Baier? #HillaryFoxNews

— Harold Nikiforakis (@Nikk1066) June 17, 2014
#hillaryfoxnews they are tossing her soft balls and she is taking advantage of it. A sad day at Fox News.

— Felix Goodfellow (@russfelix) June 17, 2014
Soft,Soft,SOFT. Was a lovefest. Disappointed .@gretawire @BretBaier #HillaryFoxNews

— Rollin G. Tod (@RollinTod) June 17, 2014
This is a pretty soft ball interview by Bret and Greta. #HillaryFoxNews

— Thomas J. Ralph (@RALPH_RE) June 17, 2014
@BretBaier @gretawire @HillaryClinton
It takes a MONTH? She was not pressed hard on anything! Very disappointed. #HillaryFoxNews

— Jim Strickland (@jimtstrickland) June 17, 2014
That was weak. Disappointed in @BretBaier and @gretawire Next time let's try @megynkelly #HillaryClinton #HillaryFoxNews

— blessedboymama (@blessedboymama) June 17, 2014
This is probably the easiest interview HRC has ever had. @BretBaier and @gretawire looking very weak #HillaryFoxNews

— TheOtherShane (@TheOtherShane) June 17, 2014
There's a lot more where that came from on Twitter. What do you think, did they go too easy on her?
Watch two clips from the interview below, via Fox News:
[Photo via screengrab]
— —
>> Follow Matt Wilstein (@TheMattWilstein) on Twitter
Have a tip we should know? tips@mediaite.com