Convicted Rapist Darren Sharper's Pro Football Hall of Fame Nomination Sparks Public Outcry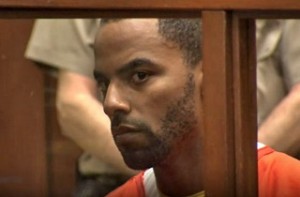 Darren Sharper, who is currently serving an 18-year prison sentence after pleading guilty to charges that he raped as many as 16 women, has been nominated to the Pro Football Hall of Fame.
Sharper is one of 94 NFL players and coaches who have been nominated for induction in Canton. The list will be pared down to 25 in November. Sharper was also nominated last year, and did not receive a single vote.
Fans and journalists on Twitter were outraged by Sharper's nomination.
This TOTALLY flew under my radar, but Darren Sharper got a HOF nod. What. https://t.co/kJBTymQyu5

— Kavitha A. Davidson (@kavithadavidson) September 16, 2016
Well, that convicted rapist was a really good football player which is why police and DAs didn't stop his rape spree in the middle of it

— Jessica Luther (@scATX) September 16, 2016
I know they say that they don't take into account off-field issues when voting on HOF, but Darren Sharper? https://t.co/GW66qwqUqc

— Jayson Braddock (@JaysonBraddock) September 15, 2016
Pro Football Hall of Fame dishonored 93 other #NFL greats by listing convicted rapist Darren Sharper among nominees https://t.co/7lqCccSczp

— Michael DeCourcy (@tsnmike) September 15, 2016
Let's stop pretending the @NFL & @ProFootballHOF doesn't prioritize a stupid game over women's lives https://t.co/wrnQGx7CTP

— Alanna Vagianos (@lannadelgrey) September 16, 2016
It's feels like the NFL actively wants to alienate its female fans at this point. https://t.co/CX9yFZotl3

— D'Arcy Maine (@darcymaine_espn) September 16, 2016
This is a joke, right? Admitted rapist Darren Sharper nominated to Pro Football Hall of Fame: https://t.co/S8smq5r2rg

— Kayla Fortney (@KaylaFortney) September 16, 2016
And the NFL doesn't have a problem? They just keep driving nails in their coffin. https://t.co/RqRONngQp1

— Chris Roberts (@jpcouncilchris) September 16, 2016
Shame on you @NFL. This is despicable. #DarrenSharper #NFL #HallofFame https://t.co/rhn1eHT06R

— Anne Cutler (@AnneCutler) September 16, 2016
[h/t Kavitha Davidson – ESPN, Huffington Post]
[image via screengrab]
–
Follow Joe DePaolo (@joe_depaolo) on Twitter
Have a tip we should know? tips@mediaite.com
Joe DePaolo - Senior Editor