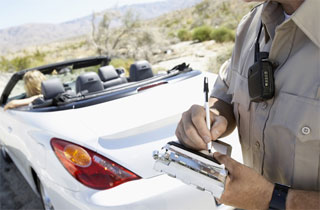 An Indiana woman is suing a state trooper for deciding that a routine traffic stop was the right time to start preaching Christianity and asking if she wanted to convert.
Ellen Bogan told the Indy Star that State Police Trooper Brian Hamilton had pulled her over in August for a traffic violation, but while they were on the side of the road, with her still in the car, he asked her: Are you a Christian?
"The whole time, his lights were on," Bogan said. "I had no reason to believe I could just pull away at that point, even though I had my warning."

Bogan's complaint also claims that Hamilton asked if he could give her something and that he went to his car to retrieve a pamphlet from First Baptist Church in Cambridge City.

The pamphlet, which was included in the lawsuit, advertises a radio broadcast from "Trooper Dan Jones" called "Policing for Jesus Ministries." It also outlines "God's plan for salvation," a four-point list that advises the reader to "realize you're a sinner" and "realize the Lord Jesus Christ paid the penalty for your sins."

"I'm not affiliated with any church. I don't go to church," Bogan said. "I felt compelled to say I did, just because I had a state trooper standing at the passenger-side window. It was just weird."
Bogan and the ACLU have filed suit against Hamilton for violating her First and Fourth Amendment rights, and so far, the State Police have not commented on the suit.
[IndyStar]
[Image via Shutterstock.com]
—
>> Follow Tina Nguyen (@Tina_Nguyen) on Twitter
Have a tip we should know? tips@mediaite.com