Cory Booker Invented 'Imaginary Friend' in Stump Speeches, According to Report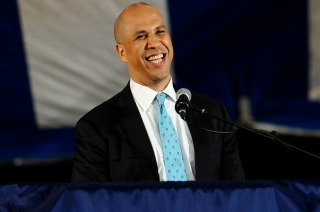 New Jersey Senate candidate Cory Booker has a friend: T-Bone, the drug dealer. T-Bone once attempted to rob Booker, only to later become the Newark mayor's friend and confidant. This tale made its way into Booker's stump speeches when he first ran for mayor. The problem with this often told tale is that, according to National Review's Eliana Johnson, T-Bone never existed. Like President Barack Obama's "New York girlfriend" in his autobiography Dreams of my Father, T-Bone is a "composite" of a number of people Booker encountered in Newark.

"[S]ources tell National Review Online that the central character in one of Booker's oft-repeated stories — T-Bone, the drug pusher who the mayor has said threatened his life at one turn and sobbed on his shoulder the next — is a figment of his imagination, even though Booker has talked about him in highly emotional terms and in great detail," Johnson reported on Thursday.
The tale is one Booker admits he's told "a million" times, according to the Newark Star Ledger. Ronald Rice Jr., a Newark city councilman and Booker ally who has known the mayor since 1998, says the T-Bone story was "a fixture" of Booker's unsuccessful 2002 mayoral bid against corrupt Newark political boss Sharpe James, perhaps for its symbolic value.
A Booker supporter and professor of history at Rutgers University, Clement Price, told Johnson that Booker confessed to him that T-Bone was a composite character in 2008. Price said that he expressed to Booker how distasteful he found that tactic at the time.
"If you're going to create a composite of a man along High Street," he says he asked Booker, "why don't you make it W. E. B. DuBois?"
Since that episode in 2008, references to T-Bone have been absent from Booker's campaign speeches.
"It is not the first time Booker has been caught taking liberties with the truth," Johnson continued. "In 2007 remarks to Democrats in Summit, N.J., he described the recently deceased Newark activist Judy Diggs as a potty-mouthed educator who was always "cussin' out my momma, cussin' out my daddy," and said she had died in a "truly poetic way": reading to children."
"After catching wind of his remarks, the Diggs family, according to the Newark Star Ledger, came forward, incensed, to correct the record. Diggs, it turns out, had died in her office," she adds.
Read the full report via National Review
Photo via AP Photo/Jessica Hill
—
> >Follow Noah Rothman (@NoahCRothman) on Twitter
Have a tip we should know? tips@mediaite.com