Cosby Accuser Reportedly Files Complaint with LAPD over Alleged 2008 Assault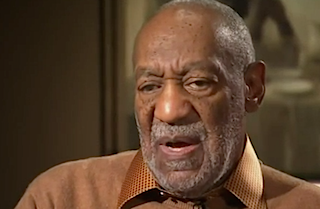 It appears that comedian Bill Cosby could finally face charges in one of the dozens of alleged sexual assaults he has been accused of in recent weeks and months. According to multiple sources, on Wednesday morning model Chloe Goins is expected to ask the LAPD to file charges against Cosby for a sexual assault she says occurred at the Playboy mansion in 2008.
Unlike the other allegations against Cosby, this one allegedly happened just six years ago, putting it inside the statute of limitations for rape, which currently stands at 10 years in California.
#BREAKINGNEWS Chloe Goins arrives @ @LAPDHQ to file complaint re: '08 sexual assault involving Bill Cosby @ABC7 pic.twitter.com/MUJmODIpVJ

— Marc Cota-Robles (@ABC7MarcCR) January 14, 2015
Last month, the 24-year-old Goins described what she says was her assault to the Daily Mail, alleging that Cosby handed her a mixed drink and then led her to a bedroom to lie down when she was feeling dizzy.
"I came to and remember seeing this big man crouched over me," Goins said. "It was Bill Cosby and he was at my feet, kind of licking and kissing them and I think he bit my toe as that's what woke me up. I kind of thank God for that because that's what woke me up and I came to."
"I was shocked, I said, 'hey, what's going on', he didn't really say anything, didn't explain anything or give a reason," she continued. "He jumped up, pulled his pants back up quickly and left. He had seen that I was alert and bolted out of there, I was left in the room by myself."
The model said she did not go to the police at the time because she feared it would damage her career.
"This isn't something I really wanted out there about myself, but I saw all the women who had come forward, over 20 women and it grossed me out. I feel he needs to pay for it, he deserves to pay for it," she said. "Unlike many of those women, I don't think he raped me so I am one of the lucky ones, but at the same time it was a fucked up situation."
[Photo via screengrab]
— —
>> Follow Matt Wilstein (@TheMattWilstein) on Twitter
Have a tip we should know? [email protected]