Cost Cutting: RNC Chair Asks Obama Not To Dine Out With GOP Senators — Offers To Order Them Pizza Instead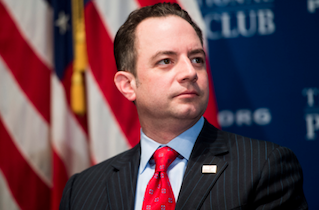 RNC Chairman Reince Priebus issued a statement about President Obama's dinner with Senate Republicans, which is planned for Wednesday night. While Priebus appreciated that the bipartisan breaking of the bread, he had one bone to pick: Spending money on eating out at a restaurant. Instead, he helpfully offered to order them some pizza.
"I'm glad to see that as he enters his fifth year in office, President Obama is finally trying to reach across the aisle in the form of dinners with Senate Republicans," Priebus said in a statement. "Since the president has been complaining loudly about the cutbacks they've had to make at the White House—including tours for schoolchildren—due to the sequester, it only seems appropriate that they avoid the considerable security expenses of dining at an upscale restaurant."
In a struggling economy, many families are cutting back, and thus it's fitting that our leaders do the same, he argued. Noting that he wasn't invited to the dinner, Priebus still offered to pitch in.
"In fact, I'd like to offer to order pizza for them and have it delivered to the White House. I know I'm not invited to dinner, but as RNC Chairman I'm happy to do my part to foster a spirit of bipartisanship if it means we can tackle the debt and deficit—and achieve real spending and tax reform. If we're lucky, maybe the pizza will serve to illuminate an important economic point for President Obama: instead of redistributing the slices, the best way to make everyone happy is to make the pie bigger."
How many of you actually think they'll take Priebus up on that offer? (We're certainly not ones to turn down free pizza.)
Read his Priebus' full statement here.
Have a tip we should know? tips@mediaite.com