Cowboys Top Forbes List of Most Valuable NFL Franchises, Rams Skyrocket From 28th to 6th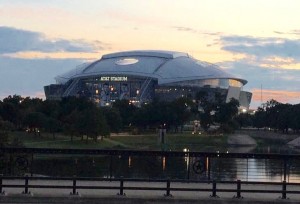 Forbes has released its annual ranking of the most valuable NFL franchises, and for the tenth consecutive year, the Dallas Cowboys are No. 1. Jerry Jones's 'Boys are worth $4.2 billion according to Forbes — an increase of 5% over last year.
But perhaps the most noteworthy takeaway from this year's rankings is that the Rams have jumped from 28th all the way up to 6th by virtue of their move to Los Angeles. The team is now worth $2.9 billion per the magazine — double its value of a year ago.
Forbes adds that the Rams value is poised to go up even further after they move to their new stadium in Inglewood. The Rams are slated to play in the LA Memorial Coliseum for the next three years, and will move to the new facility in 2019.
Forbes is bullish on the financial futures of the San Diego Chargers and the Oakland Raiders. Both Cailfornia teams cracked the $2 billion mark this year, a dramatic increase over their 2015 valuations. The Chargers will either move to Los Angeles and become a tenant in the Rams' stadium in Inglewood, or they'll build a new stadium in their current home of San Diego. The Raiders will either get a new stadium in Oakland or Las Vegas, or perhaps move in with the Rams if the Chargers pass. Either way, both franchises stand to increase dramatically in value, in Forbes's estimation.
Rounding out the top five are; the New England Patriots at $3.4 billion, the New York Giants at $3.1 billion, the San Francisco 49ers at $3 billion, and the Washington Redskins at $2.95 billion.
The Buffalo Bills come in dead last on the Forbes list at $1.5 billion.
[image via Joe DePaolo]
–
Follow Joe DePaolo (@joe_depaolo) on Twitter
Have a tip we should know? tips@mediaite.com
Joe DePaolo - Senior Editor