Creepy: Eric Bolling Publicly Celebrates His Outranking Of Deceased Mark Haines On Mediaite's Power Grid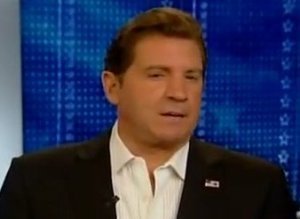 Eric Bolling is not afraid to show his enthusiasm. His judgment, however, on what, when and where are the most appropriate times to share his enthusiasm is questionable at best. Take for example his recent comment on his personal Twitter feed that celebrated his recent leapfrog over recently deceased CNBC host Mark Haines on the Mediaite Power Grid. In fairness, he did qualify the comment with "no disrespect meant to (his) old friend…" So, at least there is that.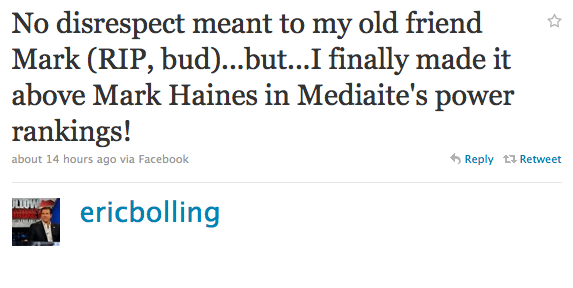 Mark Haines was the founding anchor of CNBC's signature show Squawk Box who he died suddenly just a month ago. His passing was marked by all of his network peers, but perhaps most relevantly in this story by Fox News Chief Roger Ailes, who released the following statement after his passing:
Many of us at both FOX News Channel and FOX Business Network who knew and worked with Mark Haines are deeply saddened by the news of his passing. Our thoughts and prayers are with his family."
The Mediaite Power Grid ranks over 2,000 participants in the world of media across many different categories — including TV Hosts and Anchors. While most of the data that goes into the rankings gets updated on a continual basis, the updating of the actual entries on database occurs on a monthly basis. Haines' entry in the Power Grid is scheduled to be removed by month's end.
Eric Bolling has been mentioned by many media outlets (including this one) as a possible 5pm replacement once Glenn Beck leaves later this week. But public gaffes are not something that Fox News management appreciate and one has to wonder if something like this would hurt his chances.
Have a tip we should know? tips@mediaite.com