Cruz Ad Porn Star Goes After Bill Clinton: He 'Had Real Sex,' Ruined 'Real Lives'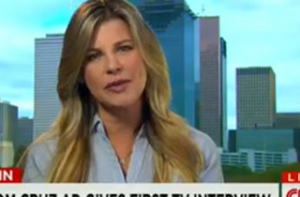 Last week, Ted Cruz's presidential campaign put out a so-so sort of ad called "Conservatives Anonymous." It was a quick shot at Marco Rubio and it went over just fine. That is, until it was revealed that the actress who delivered the main Rubio blow was actually an actress in soft-core adult films. Her name is Amy Lindsay and she has garnered the Cruz campaign a lot of attention.
Of course, soft-core porn isn't ostensibly in line with the "family values" of the Religious Right, so Cruz pulled the ad immediately. Since then, Lindsay has been on a little press tour all on her own. Her most recent interview was granted to The Daily Caller, where she was asked which candidate she would most like to make a dirty movie with.
She said she'd "have to go with" Donald Trump.
Interestingly, she then addressed the double-standards she perceives in politics.
"Of course, Ted Cruz has every right to do whatever he wants to do, and I have every right to come back and tell them what I think about it," she said of the ad being pulled.
"Bill Clinton had real sex with real people," she said. "It destroyed real lives."
She disparaged Hillary Clinton, too, for not believing rape victims. Her indignation likely comes from the fact that Lindsay had simulated, consensual sex on-camera and had her mainstream acting work pulled as a result while the Clintons, with equal amounts of sex scandal-laden baggage, are making another run for the White House.
[image via screengrab]
For more from Lindsey, follow her on Twitter.
Have a tip we should know? tips@mediaite.com