Cruz-Backer Steve King Says Cruz Went Too Far, But Trump 'Hit Below the Belt' With 9/11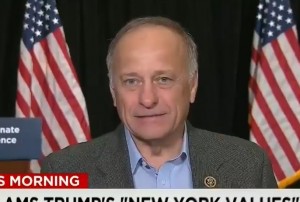 The debate moment that everyone's talking about got an unexpected, if contradictory, bit of analysis from a very prominent Ted Cruz backer from the first caucus state. Rep. Steve King (R-IA) was asked to comment on Donald Trump's blistering response to Cruz's attack on his "New York values," and indicated that Trump's response made him think Cruz had gone too far. However, King later characterized Trump's response as "below the belt."
On CNN's New Day Friday morning, anchor Chris Cuomo specifically asked King if Cruz's attack on "New York values," which Cuomo noted is a popular coded pejorative among conservatives, had "gone too far."
King responded "I didn't think he went too far until I saw Donald trump's reaction, then I thought it would have been better on the part of Ted Cruz not to have had that exchange."
King added that "it was one of the times where you saw Donald Trump actually show you more of his heart than we've seen on the campaign trail. He meant what he said."
However, later in the interview, King was doing a riff on Cruz and Trump as Muhammad Ali and Joe Frazier, and said that Trump's response was "below the belt":
It was like Ali versus frazier. Those were classical fights. I think Ali won on points, if you didn't score the blows below the belt. When some of those punches were a little below the belt, when he brought up September 11th, because there's no way to defend yourself from that. That wasn't the topic. He adopted it and brought it in. But he did it do deftly, I don't think that's what the perception was or that most people caught it that way.
It's hard to understand how King could concede that Trump's response was utterly heartfelt and winning one minute, then clai it was below the belt and deft the next, but King's impression of that conflict is noteworthy. If Trump's response landed this way on an Iowan who publicly backs Ted Cruz, it could be an indication of a wider problem for Cruz in a state that he has to win.
Here's the moment King and Cuomo were discussing:
This is an opinion piece. The views expressed in this article are those of just the author.