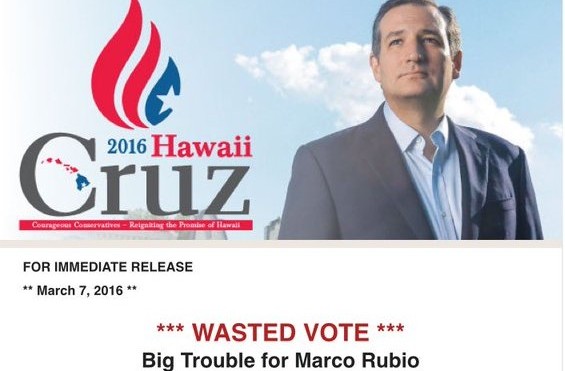 After harsh criticisms from the Marco Rubio campaign, the Ted Cruz campaign clarified that they had nothing to do with an official-looking email pushing a CNN story the Rubio campaign insists is completely inaccurate.
On Monday, the day before the Hawaii caucus, Ted Cruz Hawaii sent out an email claiming that "multiple sources" were claiming that Rubio's advisors were pushing him to drop out of the presidential race, a story that the Rubio campaign has denounced. But after the Rubio campaign complained, the Cruz campaign put out a statement saying Ted Cruz Hawaii is an unofficial, unsanctioned organization.
According to Cruz communications director Alice Stewart:
The at-issue emails and social media posting was not sanctioned by the Cruz for President campaign. The campaign became aware of the email this morning by press accounts and upon investigation learned that some volunteers in Hawaii were involved in the posting. The individual(s) who sent this had no authority from the campaign to do so.

The campaign's counsel has contacted those responsible, who were in no way authorized by the campaign, and demanded that the material be removed and further use of official campaign logos for any purpose be terminated.
Ted Cruz Hawaii, for its part, claimed to be "officially sanctioned" by the Cruz campaign before its website was taken down.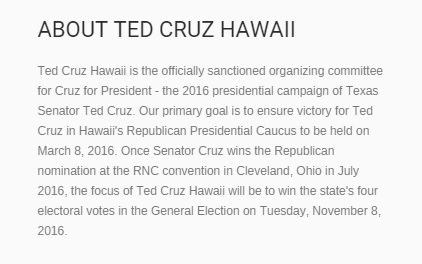 TIME's Zeke Miller also notes that TedCruzHawaii.org was registered by Marissa Kerns, a member of Cruz's Hawaii leadership team.
Person listed as registering https://t.co/y0BzzHPMGj is on Cruz's HI leadership team https://t.co/QoppmDBmXe pic.twitter.com/YMwvpJGgU4

— Zeke Miller (@ZekeJMiller) March 8, 2016
[Image via screengrab]
——
>>Follow Alex Griswold (@HashtagGriswold) on Twitter
Have a tip we should know? tips@mediaite.com