Cruz Gets Heavy Criticism for Saying Law Enforcement Should 'Patrol' Muslim Neighborhoods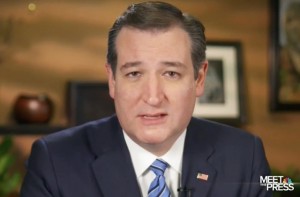 Ted Cruz got some online blowback today for a statement after Brussels saying that law enforcement should "patrol and secure Muslim neighborhoods." Earlier in the day, Cruz declared that the horrible terrorist attack shows "Radical Islam is at war with us."
He released a lengthier statement making the same point, including criticizing President Obama for refusing to say "radical Islamic terrorism" out of PC concerns. But in addition to talking about border security and fighting ISIS, Cruz also said this:
Our European allies are now seeing what comes of a toxic mix of migrants who have been infiltrated by terrorists and isolated, radical Muslim neighborhoods.

We will do what we can to help them fight this scourge, and redouble our efforts to make sure it does not happen here. We need to immediately halt the flow of refugees from countries with a significant al Qaida or ISIS presence. We need to empower law enforcement to patrol and secure Muslim neighborhoods before they become radicalized.
That immediately set off quite a lot of people. A spokesman for CAIR told The Washington Post, "It's really beyond belief that you have one of the leading presidential candidates calling for law enforcement to target religious communities totally based on the fact that they are of a particular faith. In normal times, this would be the sort of thing that would disqualify someone from running for dogcatcher, much less president of the United States."
Bernie Sanders and John Kasich even condemned his proposal:
Sanders on Cruz: We are fighting a terrorist organization, a barbaric org that is killing innocent people. We are not fighting a religion

— Katy Tur (@KatyTurNBC) March 22, 2016
More Sanders on Cruz "patrol": That would be unconstitutional, it would be wrong.

— Katy Tur (@KatyTurNBC) March 22, 2016
Kasich on Cruz patrols: "In our country, we don't want to create divisions, where we say you're a Muslim, we want to keep an eye on you"

— Igor Bobic (@igorbobic) March 22, 2016
Plenty of people on Twitter raised their eyebrows at Cruz too:
By default, I'm basically a Cruz guy now. And I agree with him a lot in many policy areas. But the Gaffney pick, and the "patrols"–not good

— Tim Carney (@TPCarney) March 22, 2016
Ted Cruz has had that "we need to patrol Muslim neighborhoods" statement saved on his desktop for months with a bunch of TKs and TBDs in it.

— David Roth (@david_j_roth) March 22, 2016
Ted Cruz wants to "patrol and secure Muslim neighborhoods." How do conservatives favor limited government again? pic.twitter.com/uTZJABpdfP

— Joel Pavelski (@joelcifer) March 22, 2016
Reminder: Ted Cruz is a carnival barker wannabe televangelist who cares about only one religion's liberties. https://t.co/6s1eZpAowL

— Andrew Kirell (@AndrewKirell) March 22, 2016
What attributes would a Cruz administration use to determine if a neighborhood was sufficiently Muslim to "patrol and secure"?

— Tim Mak (@timkmak) March 22, 2016
Cruz wants bigotry-guided neighborhood patrols…undermining relations w the exact community crucial for prevention https://t.co/70yQt2ZzWO

— Rula Jebreal (@rulajebreal) March 22, 2016
Has Ted Cruz proposed special badges to easily identify potential radicals for his neighborhood patrols?

— Paul Blumenthal (@PaulBlu) March 22, 2016
If Sen. Ted Cruz favors special police patrols of Muslim communities, maybe he's in favor of "New York values" after all.

— Scott Shackford (@SShackford) March 22, 2016
What "Muslim neighborhoods" does Ted Cruz want to put under surveillance exactly? Can he name a few?

— Matthew Yglesias (@mattyglesias) March 22, 2016
Next interview w/Cruz needs to ask what empowering police to "patrol and secure Muslim neighborhoods" means for say, Dearborn, under his WH

— Wesley Lowery (@WesleyLowery) March 22, 2016
UPDATE –– 3:04 pm EST: The Cruz campaign released a statement on the blowback to the candidate's comments, insisting he won't be driven by political correctness:
JUST IN: The Cruz campaign clarifies comments on law enforcement in Muslim neighborhoods — pic.twitter.com/6j05W8DZSn

— Betsy Klein (@betsy_klein) March 22, 2016
[h/t NPR]
[image via screengrab]
— —
Follow Josh Feldman on Twitter: @feldmaniac
Have a tip we should know? tips@mediaite.com
Josh Feldman - Senior Editor