Cruz Tells Backers to Brace for Incoming Attacks: 'Strap on the Full Armor of God'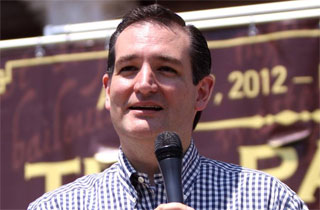 Ted Cruz spoke with campaign volunteers today to warn them about how the attacks against him are gonna burst out in full force in the next few weeks.
Cruz has gotten a rise in the polls, especially with his big boost in Iowa (ahead of Donald Trump in some polls), and he even did well in fundraising in the 4th quarter––close to $20 million total. According to The Washington Post, he said today, weeks before people start voting, "I want to tell everyone to get ready, strap on the full armor of God, get ready for the attacks that are coming."
Cruz expects everyone to turn the big guns on him (Trump's already there, sort of), and admitted that he would be "deeply concerned" if no one does, because that would mean they weren't winning.
He let everyone know that his campaign is "terrifying" the establishment and they will do whatever they can to stop him.
And as The Blaze reported, Cruz said he fully suspects dirty tricks:
Unfortunately, there are a lot of folks in politics who are not constrained by what they view as quaint notions of the truth. They believe particularly as you get close to an election day, that they can just toss out any lie, any attack and the attack will do its damage before anyone discovers that it's not true. So I want everyone here to get ready, because that is coming, and it's coming with a ferocity none of us has ever seen.
[image via Ted Cruz/Facebook]
— —
Follow Josh Feldman on Twitter: @feldmaniac
Have a tip we should know? tips@mediaite.com
Josh Feldman - Senior Editor