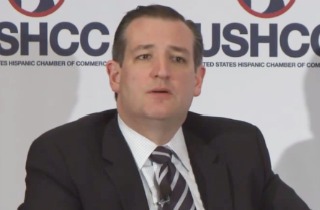 A few of Ted Cruz's Republican colleagues in the Senate have already rebuked him for saying last week that leader Mitch McConnell lied about not making a deal for a vote to renew the Export-Import Bank. Cruz said on Friday that McConnell told a "flat-out lie," since such a vote was coming up, and said he's basically in cahoots with Democratic leadership to do the bidding of big business.
Well, over the weekend a few of Cruz's colleagues objected to his remarks, with at least one invocation of Senate Rule 19, which reads, in part, "No Senator in debate shall, directly or indirectly, by any form of words impute to another Senator or to other Senators any conduct or motive unworthy or unbecoming a Senator."
Various Republicans spoke out against the attack from Cruz, with Thom Tillis calling it "a violation of the rules," Susan Collins saying it's "very unfortunate," and John McCain making it clear that even if Cruz was right (he and other senators say he wasn't), "you still don't do that."
Lamar Alexander and John Cornyn (Cruz's fellow Texan) spoke on the Senate floor, both also speaking out about Cruz's remarks. But the strongest floor speech came from Orrin Hatch, who very strongly scolded any attempt by a sitting senator to impugn the character of another senator by accusing them of lying.
Cruz responded directly after Hatch spoke and insisted he did nothing wrong nor did he violate Senate rules, but simply told the truth about a deception carried out by the Senate leader.
You can watch parts of Hatch and Cruz's remarks here, via C-SPAN 2:
[image via screengrab]
— —
Follow Josh Feldman on Twitter: @feldmaniac
Have a tip we should know? [email protected]
Josh Feldman - Senior Editor