Cubs and Indians Fans on Twitter Are United on One Thing: They Think Joe Buck Has it in For Their Team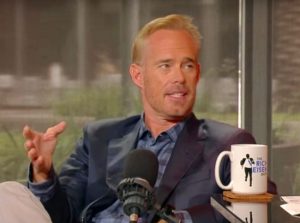 Chicago Cubs fans and Cleveland Indians fans haven't agreed on much in the Twittersphere, as their teams have battled in the Fall Classic for the past eight days. But there is one thing on which the verdict seems to be unanimous: Joe Buck hates their team.
The FOX play-by-play announcer is the son of legendary St. Louis Cardinals broadcaster Jack Buck. The Cardinals are, of course, the Cubs' bitter rival. And on that basis, many Cubs fans think that Joe Buck is in the tank for the Indians.
I can't stand Joe Buck, he's done nothing but ramble about the Indians the whole series… he wants them to win so bad??

— AJ Youngman (@AY5thetruth) November 2, 2016
#WorldSeries Drinking game:
Take a shot every time Joe Buck compliments the Indians.

— Lizzy|-/⚾ (@chicagopunker31) November 2, 2016
@fredonair omg yes Joe Buck is so biased for the Indians! Can't stand him

— Nancy Barron (@NancyBa20389410) November 2, 2016
Joe Buck's newest man crush: the last three guys in the Indians bullpen. #Cubs #sorrykershaw #FlyTheW

— Michael Sand (@mikesand10) November 2, 2016
Joe Buck clearly wants the Indians to win.

— Katia Aiello (@katiaA07) November 2, 2016
Jon Smoltz and Joe Buck and the only two Indians fans left

— Danny Besser (@Dbess26) November 2, 2016
Should we not even play a game 7 tomorrow? According to Joe Buck, the Indians bullpen is so loaded, there's no point. #Cubs #WorldSeries

— Shane Roenfanz (@ShaneRoenfanz) November 2, 2016
Could someone tell Joe Buck that the #Cubs are playing the #Indians and not the #Cardinals? #WorldSeries

— Sean Rohe (@JovnyVlasic) November 2, 2016
But many Indians fans on social media disagree, and think Buck is pulling for the Cubs:
Joe Buck makes a Cubs double play seem like Jesus Christ himself turned it.

— Cleveland SportsTalk (@CLEsportsTalk) November 2, 2016
Every #Tribe Fans thoughts when Joe Buck opens his mouth…..#WorldSeries pic.twitter.com/JPR6YyARKZ

— Pumpkinhead ? (@PumpkinNation) November 2, 2016
Joe Buck sounds like a local announcer for the Cubs.. How FOX let him telecast this game is beyond me

— Nick Spain (@Nicholas_Spain) November 2, 2016
Let's check in on the Joe Buck decibel level after that 3-run first by the Cubs pic.twitter.com/X8tyrh8gnJ

— Anthony Lima (@SportsBoyTony) November 2, 2016
Joe Buck couldn't be less enthusiastic about the @Indians win in comparison to the @cubs win on Weds. Shameful. Pathetic and transparent.

— Jennifer Picciano (@jenpicciano) October 29, 2016
Joe Buck if the Cubs complete the comeback tomorrow… pic.twitter.com/4j9jH2GMOr

— Boston Strong (@BostonStrong_34) November 2, 2016
Joe Buck doesn't think the Indians will come back? #CubsBias

— Kevin (@TheKashworth) November 2, 2016
One Indians fan, poking fun at what they deem to be Buck's love of Cubs slugger Kyle Schwarber, even created a Buck-Schwarber wedding registry.
No matter what happens in tonight's historic Game 7, it's quite likely one fan base will appreciate the commentary a little more than the other.
[image via screengrab]
–
Follow Joe DePaolo (@joe_depaolo) on Twitter
Have a tip we should know? tips@mediaite.com
Joe DePaolo - Senior Editor