Cybersecurity Expert Accuses NBC of '100% Fraudulent' Hacking Story, NBC Fires Back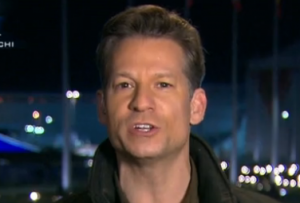 Earlier this week, NBC's Richard Engel filed a report warning travelers to Sochi about the danger of getting hacked, but one cybersecurity expert took serious issue with the story, which he described on his blog as "100% fraudulent."
In the report, Engel brought some brand-new laptops and a new phone just to test how secure people's devices would be in Sochi, and he concluded that he was hacked "almost immediately." But Robert Graham pointed out a few reasons why all is not as it seems.
1. They aren't in Sochi, but in Moscow, 1007 miles away.

2. The "hack" happens because of the websites they visit (Olympic themed websites), not their physical location. The results would've been the same in America.

3. The phone didn't "get" hacked; Richard Engel initiated the download of a hostile Android app onto his phone.

4. …and in order to download the Android app, Engel had to disable a lock that prevents such downloads — something few users do [update].
He explained that the real issue is geolocation, meaning that from inside Russia "you'll see more dodgy Russian sites in the results," which can be easily disabled in the settings. Graham concluded, " The only thing that can be confirmed by the story is 'don't let Richard Engel borrow your phone.'"
NBC fired back against his criticisms in a point-by-point statement to Business Insider, saying that it was completely clear Engel was in Moscow and that the entire story was supposed to be about alerting the layman.
NBC said the story was designed to show how easily a non-expert could fall victim to a hack. "Just like any regular user, Richard went online, searched sites and was very quickly targeted and received a tailored fake message designed to trick him into downloading the software."
You can watch the original report, via NBC News:
[h/t Business Insider]
[photo via screengrab]
— —
Follow Josh Feldman on Twitter: @feldmaniac
Have a tip we should know? tips@mediaite.com
Josh Feldman - Senior Editor