Daily Caller Has Two Reporters Investigate Barney Frank's Alleged On-Air Flatulence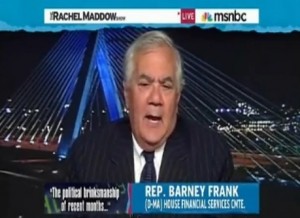 When people turn to Tucker Carlson's DC-based political website The Daily Caller to check the political winds, this probably isn't what they have in mind. On Tuesday morning, The Daily Caller's Jeff Poor reported on the possibility that Rep. Barney Frank (D-MA) farted on The Rachel Maddow Show's air. The Daily Caller posted a clip of what is pretty clearly Frank shifting on a noisy chair, and even went so far as to contact Rep. Frank's office for comment on the matter.

If Frank did, indeed, let go of a left-cheek sneak, it would still qualify as the best thing to pass out of the House this year, but based on the video evidence, the Massachusetts Congressman appears to be in the clear:
Poor seems unfamiliar with the extremely well-defined code of ethics surrounding this kind of story, which clearly states that "whoever smelt it, dealt it" (or in Poor's case, "whoever noted it, floated it"). Conversely, Frank's office is clearly familiar with the "whoever denied it, supplied it" clause, declining to comment on the matter.
Perhaps the best part of the story is this note from the bottom of The Daily Caller's story: "C.J. Ciaramella contributed to this report."
That's right, folks. Not only did The Daily Caller do a news story about an alleged fart, they assigned two reporters to do it! They must have some hell of a good budget.
FishbowlDC's Betsy Rothstein got to the bottom of The Daily Caller's fart journalism, grilling their reporter on the mechanics of actually calling a sitting US Congressman's office to ask about an alleged fart:
We grilled Ciaramella about phoning Frank's office. He explained that he left a message to confirm a quote. So no mention of the er, purported wind? "No, I just asked to confirm a quote, which, y'know, is pretty much the truth," he told FishbowlDC. 'I didn't think I'd get a return call if I asked straight-up:"Wondering if Rep. Frank farted on-air last night. Holler back.'" Asked whether he personally believes the congressman passed gas or not, he said, "Now, I'm an objective journalist, so I can't speak to the veracity of the alleged fart. I'll leave that up to the readers. I will say I've watched the video many times, and it's hard to determine. Rep. Frank could have good recourse to the 'it was the chair' defense."
Yes, it's August, typically a slow news month, but is it really slow enough to devote two reporters to this? And what does this rather gratuitous attack on a Democratic politician do to Carlson's outrage at being called a "conservative" publication by Politico?
Have a tip we should know? tips@mediaite.com