Dana Loesch Goes Too Far Calling Martin Bashir 'Foreign' And Unable To 'Understand' U.S. Politics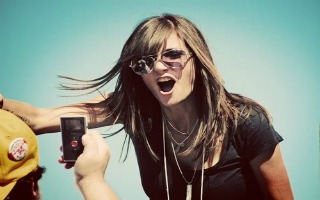 On her radio program on Friday, Editor in Chief of BigJournalism.com CNN contributor Dana Loesch attacked MSNBC contributor Martin Bashir for being a "hack," but also for being a "foreigner" who doesn't understand American politics and is not qualified to discuss the subject. If you had asked me yesterday if I thought, less than 24-hours after making a substantive critique of Mr. Bashir for a particularly outlandish segment on his MSNBC program, that I would turn around and defend him from an attack by a conservative, I would have said I'd eat my hat… Well, pass the ketchup.

RELATED: Martin Bashir's Duplicitous, Child-like Claim Romney Going To Hell For Saying Obama Pegged Unemployment At 8%
Loesch took on Bashir on her radio program, "The Dana Show," on Friday after Bashir said that likely Republican presidential nominee Mitt Romney would go to Mormon hell for lying that Obama said the 2009 American Recovery and Reinvestment Act would keep unemployment under 8 percent after the full amount of the funds had been spent.
This was a ludicrous and partisan claim and easily debunked – Yes, President Barack Obama never said those words in public, but it was his early administration's key pitch for the stimulus and that claim was authored by two key, high profile senior economic advisors in the Obama administration. To attest that Obama had any distance from this claim is a statement that should be reserved for those on the payrolls of one of the Democratic committees.
But Loesch's criticism went beyond substance.
"There are numerous studies that blow both of their backsides out of the water," Loesch said. "The Pew Center: public opinion of media never worse. There's been a number of studies by different media centers that have shown there's a definite bias in the media."
Yep. Here's the study. Tim Mak via Politico reports that the study shows a "Record numbers of Americans consider the news media to be 'immoral,' 'inaccurate,' and 'biased.'"
"Martin Bashir needs to go back to reporting on celebrities," Loesch said. A statement I can certainly get behind.
"He's a hack," Loesch continued. Again, a statement with which it is hard to take issue.
"I don't want to hear a foreigner talking about media in this country, or politics in this country." she said, "You don't understand it. You're British."
Whoa. Now, wait a second…
You can disagree with Bashir, as I do often. You can point out where and when he indulges in willful ignorance or misapprehension in order to score political points, which he does with a rather repugnant regularity. However, to assert that because he is foreign born that he cannot understand American politics is a bridge too far.
Would Loesch make the same assessment of Canadian-born National Review contributor Mark Steyn? Or British-American Fox Business anchor Stuart Varney? Indian-born Dinesh D'Souza? Or the late Tony Blankley, American patriot by way of London?
And those are just conservatives. The other side of the political aisle is jam-packed with pundits who have a slight or pronounced accent. That does not make their input any more or less viable than that of a naturalized or native-born citizen.
What of the flipside of that assertion: can Americans not understand the politics of foreign nations, no matter how many years of study they devote to the subject, simply because they are American-born? Of course not.
Loesch is a smart contributor and an asset to the table of election night analysts on CNN. She did a particularly good job of providing context on the night of the Iowa Caucuses in January to a group of pundits that could not explain former Pennsylvania Sen. Rick Santroum's come-from-behind victory for the life of them. Where they didn't have a clue, Loesch did. But she got worked up and in a fit of pique make a substanceless critique of Bashir that harms her brand.
This is a true shame, if only because there is so much substantive criticisms to make of his routinely shallow and nakedly partisan political analysis.
Listen to Loesch on her radio program below:
h/t Raw Story
Have a tip we should know? tips@mediaite.com