Dana Loesch's Excuse for Attack on Trump Pundit Undergoing Double Mastectomy Right Out of 2nd Grade (Updated)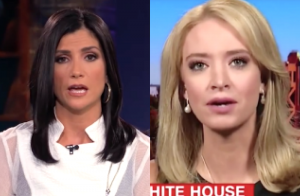 When we look back on the 2016 presidential race, here's one word that won't come to mind:
Maturity.
Oh, we can all do the easy thing here and point the finger at one Donald J. Trump, but we were all professionals before this race began and will be again after it ends. Using Trump as an excuse to jump into the rhetoric swamp is the stuff of elementary school… the kind of finger-pointing that usually ends with, "But, but… HE started it."
Exhibit A today comes courtesy of The Blaze's Dana Loesch, who elevated the conversation from elementary school to about 8th grade when attacking one Kayleigh McEnany, a Trump supporter and CNN contributor. Attacks are fine if the argument is based on the merits, of course, that's all part of the contract. But Losche decided to bring McEnany's bra size into the equation during her radio show — calling her "flat-chested" in an attempt to be, like, provocative and stuff. And in doing so, walked right into quicksand after it was revealed via the Daily Caller's Betsy Rothstein that McEnany appears the way she does because of a double-mastectomy she had performed a few years ago because she is what's called BRCA-1 positive. Note also courtesy of Rothstein: McEnany had eight aunts who were diagnosed with breast cancer, hence the preventive approach.
"Where were you several years ago?" Loesch asked, apparently unaware that new pundit players come into the cable news fold every election cycle. "Because I surely didn't see you to my right or to my left."
To answer Loesch's question, here's an answer where McEnany has been via her bio:
She has an extensive history in academia, studying both law and politics at Harvard Law School. She graduated from Georgetown University, School of Foreign Service with a BSFS in International Politics. She also studied politics at Oxford University, St. Edmund Hall.
"Baby cakes, this was more than just going on television and flashing your pearly whites and your flat chest, red dress, over-sprayed bleach blond hair while you sit and preach all this stuff about who is or isn't a conservative?" Loesch continued. "You like Trump — let me act like him for a minute. I bet you love me now."
Yup… just another dumb blonde on TV who happened to study at Georgetown, Oxford and Harvard Law.
Now… let's be fair here: Loesch had no idea her target underwent such surgery. But this is where the mature part… the part where an adult emerges and ego is put aside… comes in: Instead of apologizing for the remark, instead of swearing she had no idea and shouldn't have gone there anyway, the host regresses from 8th to 2nd grade and doubles down with a "Trump started it" excuse around the insults he's made… or something. So on DanaPlanet, that means his supporters are allowed to be attacked in the same fashion. TheBlaze.com loves it all, of course, even featuring the rant on its popular page.
Asked why she got so personal, Loesch's explanation defies logic…
"Here's my mantra: You don't want nothin', don't start it. I mean, you're welcome to step to any time. She made it personal first — I'm just doing it the Trump way: you come at me, I'll come back at you three Loesch said. "times as hard. You like it now? Because I can go harder."
Upon reviewing McEnany's comments on CNN or any in recent memory, not once has she even broached Loesch's name, let alone started anything. This appears to be a simple disagreement over the definition of what truly qualifies as a true conservative. And there is no right or wrong answer since it's subjective…
Maturity. Some in the infotainment business may confuse that quality with boring. It doesn't have to be.
The truly talented know how to walk that line. Some don't.
Put Dana Loesch in the latter category.
— —
Follow Joe Concha on Twitter @JoeConchaTV
Correction, 5/11: The column indicates Kayleigh McEnany had completed the process of double mastectomy. While she has had implant surgery in an effort to stretch her skin to prepare herself for a double mastectomy, the latter process hasn't been completed yet. The author regrets the error. The headline has been modified to reflect said correction.
This is an opinion piece. The views expressed in this article are those of just the author.