David Frum Apologizes for Accusing News Agencies of Running Faked Gaza Photos
Atlantic senior editor David Frum tweeted accusations late last week that photos of two grieving Gazans published by Reuters, the Associated Press, and the New York Times were staged by Hamas. The charges were immediately and forcefully refuted by news agencies spokespeople and one of the photographers, and Frum promised to "review" his allegations.
On Wednesday afternoon Frum apologized. "I made a mistake," he wrote at the Atlantic, though he said he was not acting in his post as an editor. "These images do appear authentic, and I should not have cast doubt on them. I apologize especially to Sergey Ponomarev of The New York Times, whose work I impugned."
The photos, of two sons bringing their injured father to the hospital, are shown below. Frum, working off accusations of a blogger (more on him here), alleged that the men's hair goes from wet to dry, and that blood appears on their arms in only some of the photos, suggesting the pictures were taken in progressive levels of staging: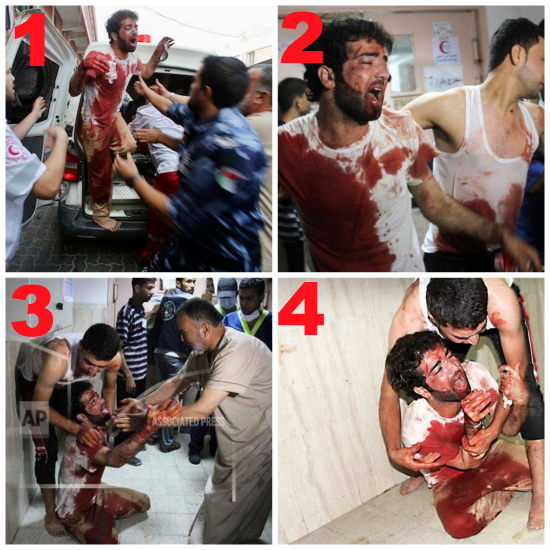 For all that it was an apology, the majority of Frum's post was devoted to arguing that factions in the Middle East have a history of staging, photoshopping, or swapping images for propaganda purposes, which primed him to view the images of the grieving Gazans as fake. "In this latest round of fighting, image management has been one of Hamas's weapons," Frum wrote.
"That was not the case with the photos I disputed," he concluded. "I was wrong on Twitter, and I retract and apologize for my mistake."
[Photo credits: Sergey Ponomarev for The New York Times (top photo), Ibraheem Abu Mustafa/Reuters (second from top), Ibraheem Abu Mustafa/Reuters (#1), Abed Rahim Khatib/NurPhoto/REX via AP Images (#2), Abed Rahim Khatib/NurPhoto/REX via AP Images (#3), Hatem Ali/AP Images (#4)]
——
>> Follow Evan McMurry (@evanmcmurry) on Twitter
Have a tip we should know? tips@mediaite.com