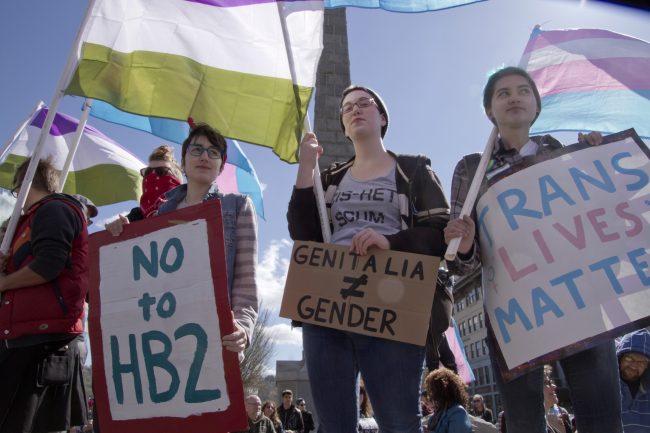 North Carolina legislators may have struck a deal to repeal the state's controversial "bathroom bill." According to multiple reports, the state legislature, along with new Democratic governor Roy Cooper, will repeal the bill in exchange for a promise to halt local "nondiscrimination ordinances" within the state until 2020.
"I support the House Bill 2 repeal compromise that will be introduced tomorrow. It's not a perfect deal, but it repeals House Bill 2 and begins to repair our reputation," said Cooper in a statement, The New York Times reported. Senate leader, Phil Berger and House Speaker Tim Moore also released far more enthusiastic statements of support.
LGBT groups, however, slammed the compromise saying it would still leave North Carolina residents vulnerable. In a tweet, Human Rights Campaign said the compromise "doubles-down on discrimination."
Make no mistake: This newest #HB2 proposal is a bad deal that does not actually #RepealHB2. Instead, it doubles-down on discrimination.

— HumanRightsCampaign (@HRC) March 30, 2017
The original law passed through a Republican dominated legislature and was signed by GOP governor Pat McCrory in March 2016. Among other things, the bill required transgender North Carolina residents to use the bathroom of their gender assigned at birth. The law ignited a new front in the culture wars and resulted in billions of dollars in lost revenue for the state. Fallout from the bathroom bill also played a direct role McCrory's narrow loss to Cooper in November.
[image via Shutterstock]
Have a tip we should know? [email protected]