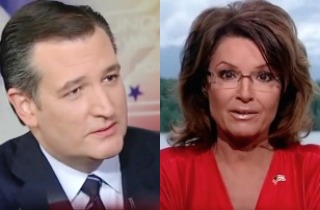 Conservatives have been raking Ted Cruz over the coals like a Yelp reviewer at a Tony Robbins seminar ever since he refused to get in line behind his former rival Donald Trump. Notable Trump advocate Sarah Palin jumped into the mix following Cruz's Wednesday night speech at the RNC, blasting her former ally and saying that his defiance marks the certain death of his political future.
In a Breitbart statement titled "Delete Your Career," the former Alaska governor sunk her teeth into Cruz, and promised that America would never forgive him for rebelling against his party's choice.
"Turns out Ted Cruz's partner, Carly Fiorina, had a more graceful exit from the political stage than he had." Palin wrote. "I guarantee American voters took notice and felt more unsettling confirmation as to why we don't much like typical politicians because they campaign one way, but act out another way."
Palin went on to say that all Cruz managed to do was remind the country that politicians break their promises at will, and that he will permit the national status quo to remain the same.
"It's commonplace for politicians to disbelieve their word is their bond…evidently thinking whilst on the convention stage, "At this point, what difference does it make?" We've been burned so horribly by that attitude that voters won't reward politicians pulling that "what difference does it make" stunt again. Politicians will see — it makes all the difference in the world to us."
[Image via screengrab]
— —
>> Follow Ken Meyer (@KenMeyer91) on Twitter
Have a tip we should know? tips@mediaite.com