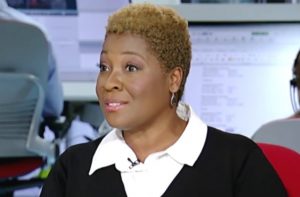 The newest declared candidate for DNC chair is a Democrat who cable news junkies may recognize from her role as a Fox News analyst.
Jehmu Greene has regularly appeared on Fox for the past few years as a political analyst, and she was the head of Rock the Vote from 2000 to 2005.
She announced her candidacy for DNC chair earlier today, laying out her background and accomplishments as she dips into a field that includes a progressive rising star in Congress and President Obama's outgoing Labor Secretary.
And Greene draws upon her current role at Fox to make the case for why she's best equipped to lead the party:
The DNC needs a Chair who is a SEASONED ORGANIZER and a FIERCE MESSENGER. A Chair who can counterpunch the disinformation about our candidates and our values coming not just from the GOP but also from the media. Someone who has a proven track record of prioritizing young people, people of color, and women…

As a FOX NEWS Political Analyst since 2010, I have a unique understanding of how to use the media to create real change. I have stood, and I will stand toe-to-toe with conservatives who lie for a living and I'll win with the truth.
And in case you're wondering what she thinks about the next president, well, Greene doesn't exactly mince words:
I did some serious soul-searching to process what I, what we could have done differently to defeat a religion- and race-baiting sexual predator with a penchant for constant lies, one who encouraged a foreign government to interfere in our electoral process and whose candidacy was endorsed by bigots and thugs from the KKK to the Kremlin.
She doesn't want the DNC race to devolve into a Clinton-Sanders proxy war and thinks the party shouldn't be "overcompensating for strategic mistakes" and doing more course-correcting than is necessary.
[image via screengrab]
— —
Follow Josh Feldman on Twitter: @feldmaniac
Have a tip we should know? tips@mediaite.com
Josh Feldman - Senior Editor