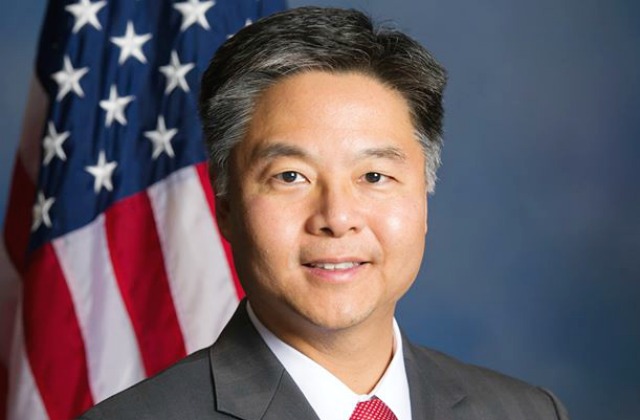 Yesterday President Obama weighed in on the actions of his successor less than two weeks in, marking a pretty big shift from the grace period generally given to presidents by their predecessors. Obama felt so strongly about the travel ban and the subsequent protests that he had to speak out to say he "fundamentally disagrees with the notion of discriminating against individuals because of their faith or religion."
The reactions have been pretty divided on how quick he was to weigh in, and The Daily Beast today flagged some interesting comments made by a House Democrat in a piece for Politico on Obama's decision to make the statement.
As the piece notes, Obama doesn't want to be weighing in on every single thing Trump does, but instead wants to find the right "selective pushback" to settle on.
Congressman Ted Lieu was interviewed for the Politico piece and asked whether he thinks Obama should be weighing in more. This was his answer:
"I wouldn't be opposed if he spoke out," Lieu said. "I just don't know what effect it would be."

"In hindsight, I believe it was wrong for Barack Obama to normalize Donald Trump," Lieu added.
Lieu was one of many Democrats who boycotted the inauguration, and he said a few times he doesn't want to "normalize" Trump's behavior.
[image via U.S. Congress]
— —
Follow Josh Feldman on Twitter: @feldmaniac
Have a tip we should know? [email protected]
---
Josh Feldman - Senior Editor