Denied: Mitt Romney Asked Chris Christie To Appear At Sunday Rally In Pennsylvania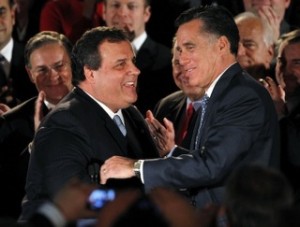 If there was any love left in the political marriage between GOP presidential candidate Mitt Romney and Republican New Jersey Governor Chris Christie, that flickering flame may now be extinguished. The Huffington Post's Jon Ward reports that the former Massachusetts Governor asked the current New Jersey Governor to attend Sunday night's "Victory Rally" in Morrisville, Pennsylvania, an offer that Governor Christie declined. While there have been plausible suggestions that Gov. Christie's "advocacy" of Romney has been motivated more by political self-interest, this decision is unassailable.
New Jersey Gov. Chris Christie, who was effusive in his praise of President Barack Obama when the two leaders toured damage from Hurricane Sandy last week, turned down a request by Mitt Romney to appear with him at a rally on Sunday night in Pennsylvania, The Huffington Post has learned.

…The Romney rally was held at a farm in Morrisville, Pa., not more than 20 minutes from Trenton, the New Jersey capital. The physical proximity of the event to New Jersey only added to questions in the Romney campaign about why Christie chose not to come.

"You can't tell me he couldn't have gone over there for a night rally," a Romney campaign source told HuffPost.
An anonymous aide to Governor Christie explained the decision to Ward:
"The entire shore is devastated," the Christie aide said. "And if you're here on the ground, you have an appreciation of how tough it is."

"All in all, it's a lot of things that require focus. We're moving toward sort of a new normal here in New Jersey," the aide said. "The governor's been pretty clear that his number one priority is the safety and security of New Jerseyans and all his efforts are focused on Hurricane Sandy recovery right now."
While I don't share my colleague Noah Rothman's outrage at the suggestion that Gov. Christie's enthusiasm for President Obama's response to Hurricane Sandy has some political underpinnings, Christie has also been doing the right thing by working so closely with the President. He's just been the slightest bit gratuitous in doing the right thing. Leaving aside the fact that this story was leaked by an anonymous Christie aide, the Governor unquestionably did the right thing.
The fact that Romney would even ask such a thing is offensive, and his campaign's response to Gov. Christie's refusal is despicable. If you don't live in New Jersey, it's impossible to understand just how completely this storm has disrupted everything in the state. A hundred miles away from the shore, there are still gas lines and empty store shelves, residents without power, evacuees with nowhere to go, and we are the lucky ones. Regardless of how you feel about Governor Christie, the sheer elbow grease he has put into his response to the storm has been self-evident. That Mitt Romney thinks Gov. Christie is obliged to drop everything to campaign for him should hurt him politically, whether Christie intends it to or not.
Update: CNN reports that a "Christie confidante" named Bill Palatucci denies Romney reached out. When Í asked Jon Ward about Palatucci's denial, Ward said he stands by his reporting. For the record, that reporting consists of a Christie aide (not a "confidante") and a Romney campaign source, and Jon Ward, whom I have known since he was the White House correspondent for The Daily Caller, is as solid a reporter as there is. Ask yourself why no official source has gone on the record, either from Romney or Christie, to deny the story.
Have a tip we should know? tips@mediaite.com