Dennis Rodman's North Korea Trip Praised by Jesse Jackson, Mocked by Basically Everyone Else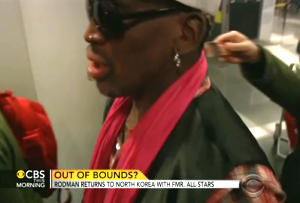 Dennis Rodman is in North Korea and if that phrase does not automatically make you shudder, weep, or yell "ARE YOU F*CKING KIDDING ME" then congratulations! You must be Jesse Jackson! Yes, the civil rights leader may be one of the only people in the United States with anything positive to say about the ex-NBA player's travels to North Korea.
ll
Just to review, Dennis Rodman is back in North Korea again, and right before he left, he actually said this:
"It's about trying to connect two countries together in the world, to let people know that: Do you know what? Not every country in the world is that bad, especiay North Korea… People say so many negative things about North Korea. And I want people in the world to see it's not that bad."
North Korea: Not That Bad. Put that on a tourism sign and sell it.
Rodman has been officially condemned by at least one member of Congress and a number of North Korean exiles for going to North Korea with a bunch of other ex-NBA players to play an exhibition game for Kim Jong-Un's birthday which is LITERALLY WHAT HE IS DOING. Dennis Rodman is in North Korea to celebrate the birthday of his good friend Kim Jong-Un.
So is there anyone in this world who thinks Rodman's trip is a good thing? Yes.

That is a tweet sent out by the Reverend Jesse Jackson. He sent out another tweet that has since been deleted:

And with Rodman saying that North Korea's "not that bad," leave it to Anderson Cooper to say what almost everyone else on the planet is thinking.

Damn.
[photos via screengrab]
— —
Follow Josh Feldman on Twitter: @feldmaniac
Have a tip we should know? tips@mediaite.com
Josh Feldman - Senior Editor