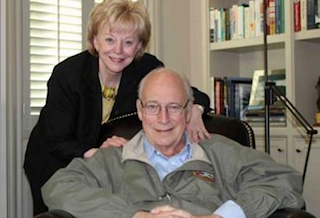 Former Vice President Dick Cheney and his wife Lynne have officially weighed in on the feud between their two daughters that began when Wyoming Senate candidate Liz Cheney voiced her opposition to gay marriage on Fox News Sunday this weekend. Mary Cheney, who married her wife Heather Poe last June, spoke out against her sister's comments in a strongly-worded Facebook post.
"I love Mary very much, I love her family very much, but this is just an issue on which we disagree," Liz Cheney told host Chris Wallace Sunday morning.
Mary Cheney responded, "Liz – this isn't just an issue on which we disagree, you're just wrong – and on the wrong side of history."
"Liz has been a guest in our home, has spent time and shared holidays with our children, and when Mary and I got married in 2012 – she didn't hesitate to tell us how happy she was for us," Poe added. "To have her say she doesn't support our right to marry is offensive to say the least."
The Cheney parents appeared to defend Liz's belief in the "traditional definition of marriage" while simultaneously accusing Poe of trying to "distort" that position in their statement:
"This is an issue we have dealt with privately for many years, and we are pained to see it become public. Since it has, one thing should be clear. Liz has always believed in the traditional definition of marriage. She has also always treated her sister and her sister's family with love and respect, exactly as she should have done. Compassion is called for, even when there is disagreement about such a fundamental matter, and Liz's many kindnesses shouldn't be used to distort her position."
As a candidate challenging incumbent Republican Senator Mike Enzi (R-WY) from the right, Liz Cheney clearly has an incentive to maintain her strongly conservative credentials, which in this case include an staunch opposition to same-sex marriage.
[h/t Washington Post]
[photo via Fox News]
— —
>> Follow Matt Wilstein (@TheMattWilstein) on Twitter
Have a tip we should know? [email protected]