Did Ed Snowden Girlfriend Lindsay Mills Already Know He Wasn't Coming Back?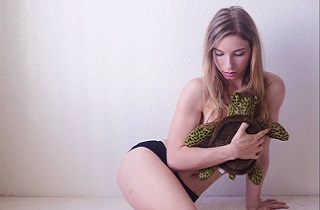 Okay, maybe he's not the worst boyfriend ever, but former NSA contractor and Prism leaker Edward Snowden abandoned girlfriend Lindsay Mills in a chilly fashion that lived up to his name. According to The Guardian, he told her he'd be "away for a few weeks," and didn't list abandoning her among his regrets. CNN reports that Mills took to her (now-suspended) blog Monday to comment cryptically about feeling "lost at sea," but a blog post from before the NSA leak stories broke cryptically references "biblical" upheaval –  "floods, deceit, loss."
In what was probably her last blog post for awhile, Mills was, as you'd expect, not all that chipper:
For those of you that know me without my super hero cape, you can probably understand why I'll be refraining from blog posts for awhile. My world has opened and closed all at once. Leaving me lost at sea without a compass. Surely there will be villainous pirates, distracting mermaids, and tides of change in this new open water chapter of my journey. But at the moment all I can feel is alone. And for the first time in my life I feel strong enough to be on my own. Though I never imagined my hand would be so forced. As I type this on my tear-streaked keyboard I'm reflecting on all the faces that have graced my path. The ones I laughed with. The ones I've held. The one I've grown to love the most. And the ones I never got to bid adieu. But sometimes life doesn't afford proper goodbyes. In those unsure endings I find my strength, my true friends, and my heart's song. A song that I thought had all but died away, when really it was softly singing all along. I don't know what will happen from here. I don't know how to feel normal. But I do know that I am loved, by myself and those around me. And no matter where my compass-less vessel will take me, that love will keep me buoyant.
That cryptic style is not a consequence of recent news, but a consistent theme on Mills' blog, which featured photos and musings with a strong poetic streak. Perhaps fittingly, she appears to have referred to many of her friends using code names, like "Chisel" for a dance partner, "Mermaid" for an old friend from back east, and "E" for Edward Snowden.
In a March 29 blog post entitled "House Turtle," Lindsey Mills posted the photo above, and talked about one of Snowden's actually temporary absences, plans for the future, and being "at the mercy of random chance." The post reads like a dry run for Snowden's escape from Mills, in heartbreaking real time.:
Just me and turtle for the next week or two. If you don't have a house turtle I highly recommend procuring one. They are comforting and make a house feel like a home. And I will surely need his snuggle powers this month with all that is going down. April is turning into spring cleaning on crack — houses, travel, relationships — and the month hasn't even begun! E is leaving tomorrow for two weeks of business on the mainland. If you know of any fun slumber parties going down over the next two weeks count me in! There may be a ticket to the east coast with my name on it somewhere in those two weeks or potentially later in April/early May (you know I'm a last minute decider). On top of mainland adventures there is this pesky task of moving. We just happen to be moving two streets away from our current house. Which is convenient, but of course I would prefer a hillside abode in the city. So now I have to coordinate the next month. Rendezvous with E on the east coast and make it back in time to move; pack the house and forego seeing E for a month; plan my east coast visit to fall around the time of family/friends' travel plans; forget it all and head for antarctica — the options are endless. And when the options are endless my indecisive nature completely shuts down, leaving me at the mercy of random chance.
She doesn't say, but maybe Snowden at least got her that stuffed turtle. In another cryptic post from June 3, several days before the first NSA leak story broke, Mills indicates that perhaps she's aware of the storm to come:
Did you miss me? I know I've been missing my sanity! The past few weeks have been a cluster jumble of fun, disaster, and adventure. From pop-up homes to last-minute unplanned adventure to stressful moments that would give Gandhi indigestion. While I have been patiently asking the universe for a livelier schedule, I'm not sure I meant for it to dump half a year's worth of experience in my lap in two weeks time. We're talking biblical stuff — floods, deceit, loss. Somehow I've only managed a few tears amongst all of the madness of May. Waking up to June with hopes for a better swing of luck, only to find that I've lost my camera's memory card that stored 90% of my trip's memories. I feel alone, lost, overwhelmed, and desperate for a reprieve from the bipolar nature of my current situation. My coping response of the past was to flea to foreign lands. Trying to outrun my misfortune. But before I can sail away to lands unknown I need to wipe my misguided tears and reflect on all that is happening. Listen to my core. Find zen or something like it. And breathe into what little patience I have left.
From the rest of her blog, you can see that Lindsay had a lot going on, and that she's a very intuitive person, so maybe this was just her picking up on clues. There seems to be little doubt that she didn't see this coming prior to Snowden's departure. In an April blog post, she talke about sharing a new home with "E":
E and I received the keys to our next abode yesterday. My favorite part of moving is the pre-packing stage where I can roll around big empty rooms in soft window light (I may have been a cat in my former life). We took time to envision what each room could look like once we crammed our things in them. And even discussed hanging silks in the two-story main room. But before we can get into silly decorating there's the monumental task of the other house. A task I am dreading.
Here are photos, from Lindsay's blog and Instagram, of Lindsay Mills, and of Eric Snowden:
[imageviewer id=581]
Have a tip we should know? tips@mediaite.com