People love to read about celebrity's genitalia. Just ask Deadspin, who, for the past month, have been riding an online traffic wave atop Brett Favre's penis (well, that's the grossest sentence I'll ever write). However, some are already saying that Gawker, Deadspin's pater familias, has gone too far in posting an anonymous account of an alleged one night stand with Christine O'Donnell.
The post reads like something you'd find in a porn magazine (basically "Dear Penthouse Forum, I never thought it would happen to me but, on Halloween, Christine O'Donnell and her hot friend asked if they could change into their costumes at my apartment. Boy howdy, was I psyched!") although the author makes it clear he and O'Donnell didn't actually have sex when they got back to his bedroom. He does, however, describe her as drunk, naked, a "cougar," and waxes poetic* about her, ahem, lack of waxing.
The story was just recently posted but it's already causing quite a bit of a stir. For instance, Wonkette complained with tongue and cheek (they joke that, since they're no longer part of the Gawker Network, they can get away with calling the post "puerile" and "tacky" yet post quotes from it anyway), while Dave Weigel took a much harder line.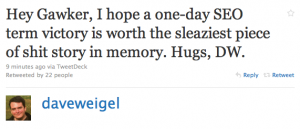 In fact, there hasn't really been any reaction to the piece that isn't moderately to extremely negative. Hell, even Jezebel, also under the Gawker umbrella, has come out against it. Sure, they really couldn't react any other way considering they're the "women's interests" blog. To quote their post: BUT STILL.
The post, in general, is far from the nastiest thing to be either posted on Gawker or about O'Donnell. However, it's anonymous nature and proximity to the election will certainly raise some more eyebrows. Anyone concerned about how it will affect O'Donnell, though, probably needn't worry. Most of her supporters will either never see it or react the same way Sharron Angle fans did when Joy Behar used the B-word, seeing it as another sad attack from the liberal media. And Gawker will get a ton of traffic from the already brewing controversy. So, like a lot of these stories, I guess everyone wins?
What do you all think? Was this post, to paraphrase Weigel, a sleazy, piece of shit story, or a prime example of what makes the news and gossip behemoth so addictive?
*Where I say "poetic," feel free to read "sophomoric and vaguely misogynistic."
(photo via Gawker)
Have a tip we should know? tips@mediaite.com