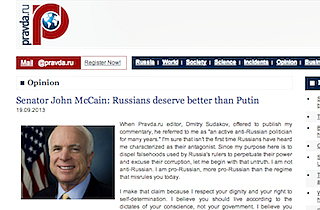 Senator John McCain published an op-ed responding to Russian President Vladimir Putin Thursday morning on the English/Russian website Pravda.ru—but was that the Pravda McCain was going for?
Russia has two unrelated publications named Pravda ("truth"), one a website founded in 1999, the other an extenuation of the Communist paper founded in 1912. The latter was the official publication of the Communist Party until it was shuttered in 1991 after the collapse of the Soviet Union. It was resurrected six years later and still operates out of the same offices, but enjoys nowhere near the circulation it did during its heyday.
When McCain was asked Sunday which Pravda he wanted to publish his response to Putin's op-ed in the New York Times, he responded "I hope it's Pravda the Communist publication."
But that Pravda said it would only run McCain's piece if it echoed the paper's official line that "the war in Syria is between the legitimate government of Syria supported by the people and the international terrorist groups encouraged by the foreign governments." Pravda.ru, meanwhile, confirmed that it had brokered the publication of the op-ed via Foreign Policy magazine.
According to Politico, a spokesperson for McCain said the Senator submitted the op-ed to both publications, and rejected the idea that Pravda.ru was the "wrong" Pravda.
Vadim Gorshenin, Chairman of Pravda.ru's Board of Directors, wrote a blistering piece in favor of his publication as the more dominant of the two Pravdas on Thursday.
"In light of recent events, I want to remind everyone that the Soviet Pravda has two successors now: Pravda.Ru and Pravda of the Communist Party," Gorshenin wrote. "We proved at court that we were the same successor to newspaper Pravda, established in 1912, as the current, low-circulation press body of the Communist Party."
"Pravda.Ru supports the policy of Vladimir Putin, but did we have to refuse Senator McCain in the publication of his column?" Gorshenin continued. "Russian media today are no less open to debate than any Western publications are—and this is the merit of the President of Russia."
[Image via screengrab]
——
>> Follow Evan McMurry (@evanmcmurry) on Twitter
Have a tip we should know? tips@mediaite.com