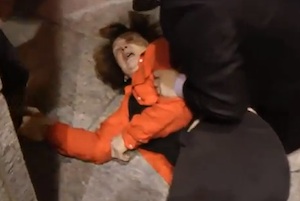 Making its way around the conservative blogosphere is this viral video of 78-year-old Dolores Broderson being shown laying sprawled over the steps of the Washington Convention Center Friday, where the Koch Brothers-funded Americans for Prosperity was hosting its "Defending the American Dream Summit". Various conservative blogs have reported that Broderson was shoved down the stairs by Occupy DC protesters, but video of the incident does not actually catch the alleged push on film, only the aftermath.
A headline by Power Line's John Hinderaker exclaimed, "Rampaging Occupiers Attack 78 Year Old Woman." "They forced their way into the building, and shoved 78-year-old summit attendee Dolores Broderson down a flight of stairs," reported Human Events staff writer John Hayward. The UK's Daily Telegraph reported she was injured by protesters, only to later note that, "Video footage showed her being helped by police as she lay dazed on the floor."
"I was behind the woman," The Daily Caller's Michelle Fields observed. "The protesters were getting in the AFP attendees faces as they were walking out of the event and the police were trying unsuccessfully to control the situation. It was really chaotic and everyone was being pushed around so I think she got either shoved or bumped as she was walking down the steps." Fields' videographer Direna Cousins caught footage of the same incident but only of her being aided by law enforcement officials. Another woman seen toppled over in The Daily Caller's video turned out to actually be caused by an angry "conference attendee" according to ConservARTive. "Further uploaded video footage shows the second woman to have been brought to the ground by a conference attendee losing his temper and pushing through the Occupier chain."
While it was undoubtedly a tumultuous scene outside the convention center between conference goers and Occupy DC, there is no damning video of protesters pushing Broderson down the stairs and bloggers appear to be jumping the gun by reporting that she was "shoved" when it seems equally likely she was accidentally bumped.
Watch video of Broderson and the melee outside the convention center on Friday via ConservARTive:

(h/t Daily Caller)
Have a tip we should know? tips@mediaite.com