Did Rick Santorum Really Talk About Making 'Black People's Lives Better' With 'Somebody Else's Money?'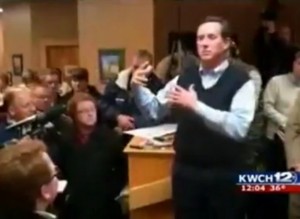 Surging presidential hopeful Rick Santorum is under fire for a remark at a campaign event Sunday in Sioux City, Iowa, where he apparently brought up the plight of black people completely out of the blue. Or did he?
According to reports, Santorum said "I don't want to make black people's lives better by giving them somebody else's money. I want to give them the opportunity to go out and earn the money and provide for themselves and their families."
The comment was first reported by NPR's Ted Robbins, who added, "Santorum did not elaborate on why he singled out blacks who rely on federal assistance. The voters here didn't seem to care."
We tracked down a clip of Santorum's comment, from Wichita, KS CBS affiliate KWCH, in which the anchor appears to be reading at least some copy from the NPR report, but the clip doesn't include the question that prompted Santorum's response. We reached out to the Santorum campaign for a transcript of the event, but they have not responded as yet. The anchor reports the comment as one that "some say is racist," and in this clip, it sounds like he's just invoking the plight of black people out of thin air, which, to a crowd of voters in "too white" Iowa, would smack of the "welfare queen" race-baiting outgrowth of the Republican Southern Strategy. Here's that clip, from Kansas CBS affiliate KWCH:
A review of a clearer version of the video, however, casts serious doubt on whether Santorum actually said "black people's lives."
CBS News has posted a cleaner version of Santorum's remarks, and it seems as though Santorum did not actually say "black people's lives," but rather, that he stumbled in mid-sentence with a verbal tic that sounded like that.
"I don't want to make…mmbligh…people's lives better" is what it sounds like to me, although CBS News also transcribes it as ""make black people's lives better by giving them somebody else's money."
Given the preceding context, in which he talks about the government trying to get more Iowans enrolled in Medicaid, the former explanation makes much more sense than the latter.
The Santorum campaign has still not returned our request for comment.
Here's the CBS clip. The viewer can judge, but even as an LGBT-friendly liberal, I'm inclined to give Santorum the benefit of the doubt here:
Have a tip we should know? tips@mediaite.com