Did Trump and a Semi-Retired Golf Pro Really Tie Top Ranked Dustin Johnson and Tiger Woods?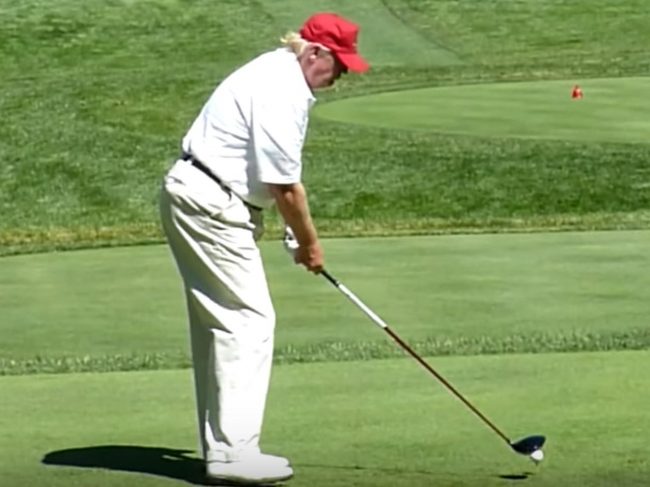 On Friday, President Donald Trump hit the links at Trump National Golf Club in Jupiter, FL along with Tiger Woods, current world ranked No. 1 Dustin Johnson, and Fox golf analyst Brad Faxon.
In a piece for GolfWeek, Faxon recapped his round with the President — and made a claim that we feel compelled to examine in detail.
Faxon — a 56-year-old former PGA Tour pro who won eight times during his career — wrote that he and Trump played Johnson and Woods in a best ball match. The Fox golf analyst claims that he and Trump actually played Woods — a 14-time major champion — and Johnson, currently the best golfer on the planet, to a draw over the 18 hole match.
We're highly, highly skeptical.
Let's break it down: First, a quick primer on best ball, for those unfamiliar with the format. In a best ball match, two-person teams compete, with the best score among the pair standing as the team's score for each hole. Lowest score on each hole wins, the margin on each hole is irrelevant. The team with the most number of holes won takes the match.
Faxon wrote that he and Trump did have one advantage — they played the course's blue tees, at 6,500 yards total for the course, while Woods and Johnson hit from the back tees at 7,600 yards. This is a not insignificant leg up — an average of roughly 60 yards per hole.
But Faxon didn't make mention of any other edges given to him and the President. No strokes per hole. No mulligans. Nothing else.
Faxon claimed that Woods is rounding into form as he makes his long-awaited return to competitive golf this week after a lengthy time out due to a back injury. That said, we can safely assume that Johnson — who has won seven PGA tournaments (including the U.S. Open) in the past 17 months, one less than Faxon's entire career total — did the heavy lifting for his team.
Trump, of course, has often boasted about his golf game. But we can't fathom, on very his best day that Trump could have posted a better score than Faxon on more than one or two holes.
We're left with, basically, a Johnson vs. Faxon head-on match — with Faxon having the 60 yard advantage from the tee box. But that advantage was likely wiped out after the tee shot. Johnson, according to PGA Tour stats, outdrove Faxon by an average of 315 yards to 265 in 2017. So it's likely they played their second shots on each hole from approximately the same spot. From there, Johnson figures to have an enormous advantage.
Is what Faxon claiming possible — that he and Trump battled two future golf Hall of Famers to a dead even draw? Yes. Maybe Woods and Johnson completely phoned in a leisurely round, and perhaps even let POTUS win a few holes. Maybe Faxon, inspired by the high-profile grouping, played out of his mind. Maybe Trump got lucky and added a birdie or two at the right time.
And maybe Sarah Huckabee Sanders really did bake that pie.
[image via screengrab]
——
Follow Joe DePaolo (@joe_depaolo) on Twitter
Have a tip we should know? tips@mediaite.com
Joe DePaolo - Senior Editor