Disrupting Display Advertising: It's Only the Beginning for Social and Mobile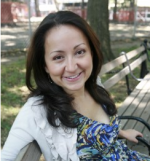 What will it take for social targeting and mobile ads to take off in a substantial way? At TechCrunch Disrupt NYC 2011, Gurbaksh Chahal (RadiumOne), Carolyn Everson (Facebook), Eric Litman (Medialets) and Mike Walrath (Moat) debated how best to bring social and mobile advertising to life. Rather than constantly blasting display ads in the public's face, they suggested word of mouth recommendations and mobile applications would be the next trend in disruptive advertising.
Everson, who is VP of Global Sales at Facebook and is responsible for their media strategy and online display advertising, said that the social credibility of friends recommending to friends has eclipsed the traditional top-down advertising model, and noted that 'likes' are as compelling as updating a status or sharing photos. RadiumOne's Chairman and CEO Chahal, who was on the panel because he built his ad network based on the social graph, concurred with Everson's point. Walrath, who is the Co-founder and Chairman of Moat, added that purchase intent is critical for targeting ads, while Medialets' CEO Litman stated that the personal nature of mobile phones and the fact that they are location aware make mobile most effective for ad targeting.
Display advertising isn't expected to fade away anytime soon – companies budgeted more on this form of marketing last year than ever before. How do social recommendations of brands, such as 'likes' on Facebook measure up? Everson suggests those clicks are much more powerful than you would think. With 50 million brand likes per day on Facebook, your friends are twice as likely to remember that you like a particular brand and four times as likely to act upon it. It's the new form of word-of-mouth advertising. Where years ago you could tell your village about your favorite merchant, today you can spread the word regarding your favorite brand all over the web.
Social targeting could translate from your computer to your mobile device if brands were to create useful applications. Litman noted how people are tethered to their phone, making it the most precise tool for understanding personal interests. Brands can therefore build applications that would customize marketing messages based on a user's location, demographics or past preferences. Litman believes this type of targeting could help mobile advertising combine an effective brand experience with measurable response metrics.
Ultimately, targeting is the name of the game. Using both personal and location based data to target ads will not only increase brand lift, but be beneficial to the end user as well.
Veronika Sonsev is the CEO and Founder of inSparq.com, a social communication company. She is also the Co-Chair and Founder of Women in Wireless. Prior to this, Veronika ran business development and strategy for AOL and Jumptap. She earned an MBA from The Wharton School of the University of Pennsylvania and a BA from American University.
Have a tip we should know? tips@mediaite.com