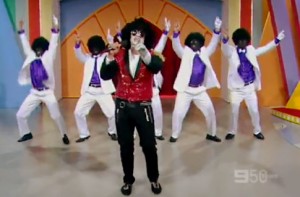 A form of 'entertainment' that most would have thought was dead a long time ago has somehow worked its way into the headlines twice over the past week. The October edition of French Vogue features photos of model Lara Stone with her face and body painted black; no actual black models appear in the issue. Harry Connick, Jr. called international attention to Australia when he protested a blackfaced Jackson 5 skit as a judge on a variety show.
After giving a zero to the skit on Hey Hey, It's Saturday, Connick, Jr. had to cancel an appearance at a shopping center in Sydney because of the number of abusive and threatening comments his protest was getting online.
Update: A reversal? Copyranter shares with us this tobacco ad from Indonesia, in which viewers are urged to embrace "the pioneering, daring spirit of progressive Indonesia" — portrayed as "slimmer and happier and crazier and, well, very very black."

The reflexive answer here is that this probably has something to do with Barack Obama's election as president. Unlike the linkage of hipster potbellies to Obama's election, this theory actually has some substance to it. Say "post-racial" all you want, but the ascension of a black man the highest office of power in America is likely to inspire backlash. Over at The Awl, Abe Sauer has assembled and annotated (and graded) a gallery of racist Photoshopped images of Obama. Speaking to The Washington Post, civil rights activist Dorothy Height said that during the 9/12 protests, she stood on the National Mall and saw "people pass by carrying posters of Uncle Sam in blackface."
There's a difference, though, between Obama's election causing some sort of blackface renaissance and its making us increasingly sensitive to it. French Vogue, which had previously featured images of cannibalism and baby-throwing, was no doubt trying to ride a wave of controversy when it ran its photos, and it's fair game to say that Obama is indirectly fuel for that controversy.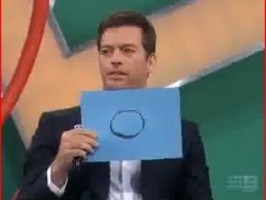 As to the Australian blackface, Gawker reports, "as the show tells us, in 1989, the same group doing a very similar act won the competition! So, in 20 years, we've gone from this offensive form of comedy being wildly popular to being still popular with the masses, even though some people know better." Lest we forget, in 1993, Ted Danson showed up at a Friar's Club roast for his then-girlfriend Whoopi Goldberg in blackface. It was meant to be ironic and all, and Whoopi said she liked it, but otherwise it did not go over well. Blackface has popped up periodically, but now especially it strikes a chord.
Mad Men, a show which loves to throw in jarring reminders that cultural sensitivities 40 years ago were not what they are today (and has been increasingly clumsy in that regard this season), had one of its most shocking and effective moments when Roger Sterling, an advertising executive, performed in blackface for his young wife:
Have a tip we should know? [email protected]