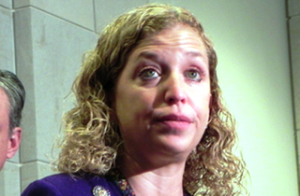 The Democrats suffered some pretty crushing losses this election season, and they know it. So the DNC convened a special committee to look into why they did as badly as they did, and various individuals serving on the committee have different reasons for why they lost so badly.
Was it Obama's unpopularity? Actually, no, according to the testimonials of Nevada state party chair Roberta Lange and Indiana state party vice chair Cordelia Burks:
"I think it's really wrong for people to say this is President Obama's fault," Lange said. "When you look back at his record of all the things he's accomplished since the last election, it's been phenomenal"…

"For those who were asked, did they vote for Barack Obama, the answer should have been 'I'm a Democrat. Who the hell do you think I voted for?' They didn't have to call his name. No Democrat running for anything is going to vote for Mitt Romney. That should have been the answer," Burks said.
So Obama didn't really impact the race? Actually, the West Virginia state party chair, Belinda Biafore, admitted that the president and his policies ended up hurting state Democrats.
But did they also lose because the voters don't agree with them? Well, not according to DNC Chair Debbie Wasserman-Schultz:
"The voters agree with us… We know that where you could see by referendum the questions like increasing the minimum wage, like equal pay for equal work, like making sure that women's health care was not unnecessarily restricted, Democratic policies were supported by voters and Republican policies were rejected. We have evidence, by voter turnout and election results, that voters do agree with us on that."
So what explains their losses regardless? Well, they haven't concluded the committee's findings yet, but Wasserman-Schultz suggested it's about motivating Democratic voters because they had good turnout in presidential election years but not-so-good turnout in midterm years.
[image via Medill DC]
— —
Follow Josh Feldman on Twitter: @feldmaniac
Have a tip we should know? tips@mediaite.com
Josh Feldman - Senior Editor