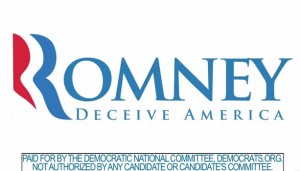 On Monday, former Massachusetts Gov. Mitt Romney's presidential campaign released an ad that has come under fire for its dishonest use of an out-of-context quote from President Obama. The Democratic National Committee has released its own ad in response, entitled "Romney: Deceive America," which highlights the media coverage of the Romney campaign's unapologetic deception, but which fails to challenge the Romney ad's central premise.
In case you missed it, the Romney ad plays a clip of President Obama saying "If we keep talking about the economy, we're going to lose," when what then-Senator Barack Obama really said was, "Senator McCain's campaign actually said, and I quote, "if we keep talking about the economy, we're going to lose."
The Democrats' ad cuts together media clips critical of the ad's dishonesty,  and some video of the campaign's response, along with a repetition of Romney declaring "words have meaning," which is ironically a bit of context that was missing from an anti-Romney ad last month. The ad concludes with a banner that reads, "Mitt Romney: Deceive America."
The problem with the ad is that it doesn't challenge the underlying assertion by the Romney campaign, that President Obama doesn't want to talk about the economy, or that he hasn't been talking about the economy, when that's pretty much all he's been doing for the past few months. While it's true that the President's polling numbers are pretty dire right now, the DNC could easily have cited polling that shows support for the proposals in the American Jobs Act, and/or Congress' record low approval.
The strengths of those arguments is certainly open for debate, but it makes no sense to repeat the Romney campaign's attack without at least trying to respond to it. Good on them for calling out the dishonesty, but letting the underlying premise go unanswered was a misstep.
Here's the ad, from Democratic Rapid Response:
Have a tip we should know? tips@mediaite.com