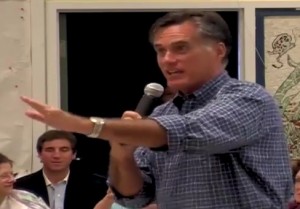 Former Massachusetts Governor Mitt Romney's less-than-stellar interview with a persistent Bret Baier continues to provide fodder for the candidate's opponents. While former Utah Gov. Jon Huntsman's Fox-fueled attack focused on fact-checking Romney, the DNC's new web video is pegged to the candidate's clear exasperation at Baier's tough questioning, making the case that this is a running theme for Romney.
The video supplements tense moments from that Fox interview with footage of Mitt Romney arguing with a reporter during the 2008 campaign, losing his temper with a voter at a New Hampshire town hall meeting in April, and scolding reporters for asking questions outside his appointed "press availability" a few days ago (not included in that clip is the ironic fact that one of those reporters asked him asked, "Is there a particular reason you're only speaking to Fox News?").
As bad as the interview was, the most damaging thing in this video is Bret Baier's account of Romney complaining to him after the interview that Baier was "too aggressive," returning to his "holding area," then coming back to complain again.
The video also contains clips of cable newsers commenting on Romney's avoidance of the press, an attack that the Huntsman campaign also leveled today, emailing reporters an op-ed that notes Romney "has not appeared on a Sunday talk show since, as Gail Collins put it in today's New York Times, 'The Hurt Locker' beat 'Avatar' for best picture.'"
Ordinarily, this kind of an attack would produce diminished returns with conservative voters, who often view inimical relations with the media as a product of the media's lamestreaminess, but the fact that this one revolves around a Fox News interview, supposedly "friendly" territory, gives it extra bite.
Of course, Romney's current chief rival, Newt Gingrich, is also no stranger to question kvetching. Even among conservatives, his constant scolding of debate moderators this cycle has become a running joke. Like Romney, the supposedly safe environs of Fox News have not deterred Gingrich from whining about the questions he's being asked.
Have a tip we should know? tips@mediaite.com