DNC's Wasserman-Schultz Blasts MSNBC for Biased Israel Coverage in Leaked Audio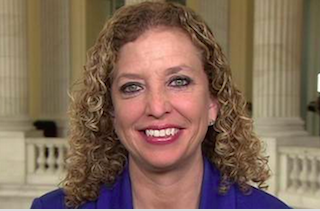 The Florida-based political blog Shark Tank has obtained and posted leaked audio from an event earlier this month in which Democratic National Committee Chairwoman, Rep. Debbie Wasserman Schultz (D-FL) spoke to a Jewish group and issued some harsh criticism of the way CNN, MSNBC and other mainstream media outlets cover the conflict between Israel and Palestine.
Wasserman-Schultz spoke to the group about the important of organizations like the Jewish Federation, especially with the "rise of anti-Semitism and global intolerance," citing the terror attacks in Paris as a recent example. "Every time we think that we can maybe ease back a bit and that their has been calm, we're reminded that people hate us because of who we are, and I don't want to say that we are never safe because I don't believe that's true."
She went on to say that before she arrived at the event, she was watching a segment on MSNBC that presented a "panoramic view of the results of the war in Gaza" from a "Palestinian perspective."
"Clearly they were highlighting what is Israel had done to Gaza and the plight to Palestinians, and my first thought was, 'Where is the balance? Where is the spotlight on what Jewish children in Israel go through from being victims of rocket attacks?'" she continued.
Wasserman-Schultz lamented a bias that she's seen not just on MSNBC but also on CNN and the broadcast networks as well.
Shark Tank's Javier Manjarres, who first wrote about Wasserman-Schultz's comments, told Mediaite that according to his source, the recording was taken at the Miami Jewish Federation breakfast on Friday, January 16, 2015, with only about 10-15 attendees present.
We have also reached out to Wasserman-Schultz's office and will update this post with a statement accordingly.
Listen to the audio below, via YouTube:
[Photo via screengrab]
— —
>> Follow Matt Wilstein (@TheMattWilstein) on Twitter
Have a tip we should know? tips@mediaite.com