Dominatrices Are Offering Promotion to Wall Street Workers and Donating Proceeds to Sanders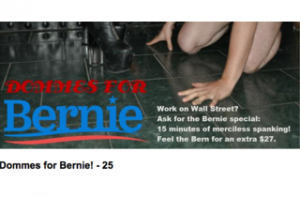 Usually, when you see a story that combines sadomasochism and politicians, it ends really badly for the politician. There is one candidate in the game, however, who manages to turn things most people on Capitol Hill would resign over — like being arrested — into stamps of legitimacy from voters. His name is Bernie Sanders and it should come as no surprise to you that some of his fans are professional dominatrices working in New York City who are the socialist version of Hookers for Hillary.
Now, before you click the following link, which will redirect you to a Backpage ad, I have a disclaimer. I'm not responsible if your boss finds this in your history. I'm not responsible if your significant other finds this in your history. I'm not responsible if you start investing all of your cash into paid spankings at the hands of patriotic urban sex workers. I'm just doing my job, which is showing you this.
If you can't/won't click that link, fret not! I will give you the run-down. So, Sanders' campaign is predicated primarily on a platform of economic equality. He loves to talk about how bad Wall Street and the teeming masses of FiDi bros located there are. As noted in this Daily Beast article, the Finance District is full of dungeons where patrons can legally buy a beating because finance workers seem to be really into getting dominated. There is a whole psychological can of worms to unpack with that, but we don't have time, so just stay focused.
The ad says the following:
Do you work on Wall Street? Are you a capitalist swine who exploits people for profit? Should you or your boss be in prison for wrecking the economy? Then you deserve a thorough beating! Ask for the $27 Bernie Special and get spanked for 15 minutes straight. Safe words are: "I feel the Bern!"

We're a group of Dommes who believe in workers' rights, destroying white supremacy, and smashing the patriarchy to bits, one submissive at a time.

All proceeds will go to Sanders' campaign.
Makes sense, right? It's a catchy stunt, but is it a sustainable one? According to an unnamed source with dungeon experience, these sorts of promotions aren't all that common. They said, "While it's not uncommon for sex workers to participate in militant political activity, particularly around issues affecting us like police brutality and gentrification … I can't think of any instances where providers coordinated to politicize their work for a national campaign/initiative that didn't directly relate to their living and working conditions."
Maybe it has something to do with Sanders' old musings on sexual subservience.
So, there you have it and there they're taking it.
UPDATE — 1:03 p.m. EST:
According to Mistress Simone, one of the providers involved in the promotion, the three dominatrices are independent, working on a freelance basis throughout NYC instead of in a dungeon. When Yeni Sleidi, a "vanilla" friend, came up with the idea, the positive reaction from the cohorts was instant and Dommes for Bernie was born.
As far as why they chose to support Sanders over Clinton, the answer is simple:
[We support him] because we think he best encompasses our feminist beliefs. Hillary doesn't support legalizing sex work, so it'd be ridiculous for us to support someone who doesn't acknowledge our autonomy and would rather see prostitutes arrested than respected.
[image via Mistress Simone/Dommes for Bernie]
For more from Lindsey, follow her on Twitter.
Have a tip we should know? tips@mediaite.com