Don Lemon to Glenn Beck: I'm 'Envious' of the 'Freedom' You Have to Say What You Want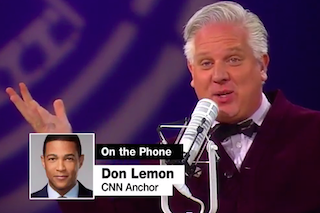 Last week, CNN's Don Lemon told Mediaite that he would be happy to go on Glenn Beck's show, and now, six days later, it happened.
Beck, who was inspired by Lemon's recent condemnation of PC culture, suspected the two men might agree more they disagree on major issues and judging by their phone conversation Monday morning, he was right.
"I've been called a bigot and a racist by the right and I've been called a bigot and a racist by the left," Lemon told Beck, adding that liberals also call him a "sellout" or an "Uncle Tom" because he doesn't believe in "pandering."
"Many times, liberals don't want to hear the truth," Lemon said. "If you don't see their world, point of view, they get really vicious." He added, "I am conservative on some issues, and I'm liberal on other issues, and I just sort of make up my own mind."
As he said previously, Beck explained that it was Lemon's unpredictability that he finds so "refreshing," a feeling that was confirmed when the CNN host said he believes it will take people like the two of them "standing up" and denouncing the left-right divide to bring people together.
To his critics who wonder why anyone tunes in to his CNN show every night, Lemon said it's because people "want to hear the truth" and "don't want to be pandered to." The key to his success, he said, is that "I don't really care what people think about me."
As a contrast, Lemon said he doesn't watch MSNBC because he always knows what those anchors are going to say before they say it. He said that's not the case with someone like Fox News' Megyn Kelly, who has shown willingness to criticize conservatives at times.
While certain news programs "say what they think people want to hear because they think people want to have their beliefs reinforced," Lemon said he instead tries to "tell people the truth."
In the end, Lemon admitted he was "envious" of Beck's independent platform on which he really can say whatever he wants to say. "I would love to have the platform that you have and the freedom that you have, Glenn," he said. "It's phenomenal and I commend you for it."
Following the interview, we reached out to Lemon to get his reaction. "I'm glad Glenn and I got to talk. I hope we continue to do it more," he told us. "But most of all I hope people around the country follow suit. At the end of the day we are all Americans and we have to make it work."
Beck also invited Lemon to attend his August 28 event in Birmingham, Alabama, which is using as one of its slogans "All Lives Matter" (as opposed to "Black Lives Matter"). In his original announcement of the rally, which will take place on the 52nd anniversary of Dr. Martin Luther King, Jr.'s March on Washington, Beck invoked the coming Supreme Court ruling on same-sex marriage as an affront to Christians.
"If you think there is trouble now, what happens when the Supreme Court decides to say that homosexuality, uh, homosexual marriage is the law of the land?" he asked his listeners. "Will this administration then force our churches to comply? Will you be forced to violate your own faith? We must together wake the most powerful force on earth: the people of God."
"I was surprised he invited me and I'm going to make every effort to go," Lemon told Mediaite of Beck's invitation.
Watch video below, via TheBlaze:
[Photo via screengrab]
— —
>> Follow Matt Wilstein (@TheMattWilstein) on Twitter
Have a tip we should know? tips@mediaite.com