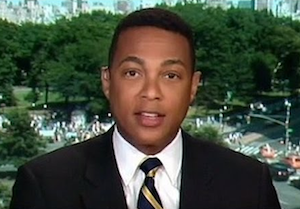 During his appearance on The Tom Joyner Show Tuesday, CNN anchor Don Lemon laid out his analogy between Jackie Robinson, the first black man to play in the MLB and Michael Sam, who will soon become the first openly gay man to play in the NFL. As a gay black man himself, Lemon wondered whether the Sam story, in conjunction with L.A. Clippers owner Donald Sterling's racist comments, are exposing a tendency to "compartmentalize bigotry."
Speaking on Sam's televised celebration after learning he had been drafted by the St. Louis Rams, Lemon said, "I wonder if that kiss helped promote tolerance or widen the divide because not everyone was on board, including some professional athletes who voiced their disgust."
"At least two of them were black men who should know how bigotry and discrimination feel," Lemon continued. He was referring to former NFL player Derrick Ward, who tweeted his disgust with the kiss, along with current Miami Dolphins player Don Jones, who was fined and suspended for doing the same.
"I wonder what Jackie Robinson would think of all of this? Remember him?" Lemon asked listeners. "When many were screaming 'no race mixing', he was the guy who risked his life for inclusion in sports, inclusion for African-Americans and all people of color."
"Michael Sam is now the guy risking his livelihood and perhaps bodily harm on and off the field for further inclusion of all Americans," he said. "So here's the real question, the same voices, the big named players, leaders and influencers who so vehemently denounced Donald Sterling by sending out statements and tweets and giving press conferences, where are they in support of Michael Sam?"
In reality, the number of professional athletes speaking out against Sam has been relatively small, and when he came out publicly back in February, many prominent figures voiced their support. But Lemon is right when he says that that level of support does not match the condemnation that came down on Sterling after his racism was revealed.
Listen to audio below, via BlackAmericaWeb:
[Photo via screengrab]
— —
>> Follow Matt Wilstein (@TheMattWilstein) on Twitter
Have a tip we should know? tips@mediaite.com