Donald Trump Is Cluelessly and Hilariously Spelling Everything Wrong on Twitter Today (UPDATED)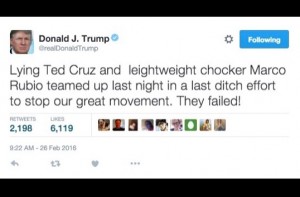 Donald Trump is not having a good morning, and it's not because Marco Rubio and Ted Cruz beat up on him so badly last night.
At the University of Houston GOP debate last night on CNN, the Republican frontrunner took a barrage of attacks from all around him; Florida Senator Marco Rubio (of all people!) accused Trump of repeating himself too frequently, while he and Texas Senator Ted Cruz got into a bizarre back-and-forth where the real estate mogul demanded an apology from Cruz after comments about Trump's sister. No, really.
Trump took his usual route of civility this morning by going after every conceivable thing he can imagine from the safety of his Twitter account. However, it has been impossible not to notice the absolutely TERRIBLE spelling in his Tweets, proving that the poorly-educated demographic really is coming into play after all.
Here are a few notable examples:
Lightweight Marco Rubio was working hard last night. The problem is, he is a choker, and once a choker, always a chocker! Mr. Meltdown.

— Donald J. Trump (@realDonaldTrump) February 26, 2016
Here he attempted to use the word "choker" three times, but spelled it two different ways in one Tweet. When in doubt, it's a great approach to type anything and blindly hit send. Though, he does earn snark points for what I hope will quickly become the newest meme to hit the stump: Marco Rubio, Mr. Meltdown 2016.
Trump followed up that last effort with what can only be described as an opus of literature:
Lying Ted Cruz and leightweight chocker Marco Rubio teamed up last night in a last ditch effort to stop our great movement. They failed!

— Donald J. Trump (@realDonaldTrump) February 26, 2016
Here, the real estate mogul and graduate of Wharton School of Business at the Ivy League University of Pennsylvania misspelled two words in a row: "leightweight chocker", which I can only assume is meant to be "lightweight choker". REMARKABLY, 30 minutes later the man Tweeted THE SAME EXACT MISTAKE VERBATIM:
Leightweight chocker Marco Rubio looks like a little boy on stage. Not presidential material!

— Donald J. Trump (@realDonaldTrump) February 26, 2016
Then Trump turned his attention to his favorite part of being the next President: polls! Because really, why not? No one moderates the man's Twitter account or proofreads his Tweets or puts any sort of filter whatsoever, so here's this humdinger:
Wow, every poll said I won the debate last night. Great honer!

— Donald J. Trump (@realDonaldTrump) February 26, 2016
The word that Trump is looking for here is, presumably, "honor", which Merriam-Webster defines as, "respect that is given to someone who is admired". The word "honer" however does have a meaning, which is, "a precision tool with a mechanically rotated abrasive tip, for enlarging holes to precise dimensions". I find it hard to believe that this was the reference Trump was going for, mostly because that definition has about six big words Trump would likely butcher on his own. However, several people on Twitter have pointed out that Trump came dangerously close to spelling a different word altogether with the gaffe:
Is that your honer or are you just happy to see me pic.twitter.com/jzdBDgoFrH

— Elizabeth Plank (@feministabulous) February 26, 2016
BREAKING: Donald Trump misspells "boner." pic.twitter.com/s3PhlGbHWN

— Andrew Husband (@AndrewHusband) February 26, 2016
@realDonaldTrump You typed "Great honer", did you mean "Great boner"?

— John Pineda (@SecDevJohn) February 26, 2016
This election is just the best, isn't it?
UPDATE — 11:25 a.m. ET: This story has some updates to it, and they're all pretty amazing.
First, Merriam-Webster trolled the hell out of the GOP frontrunner by responding on Twitter with this amazing take-down clarification of some of the misspelled words in question:
honer: one that hones (https://t.co/76PlKG8PA6)
leightweight: We have no. idea.
chocker: https://t.co/geeDMqiS4D https://t.co/2km86hZAVQ

— Merriam-Webster (@MerriamWebster) February 26, 2016
THEN! Donald Trump himself returned to Twitter to repost all of his original messages 2.0… new and improved, now with proper spelling: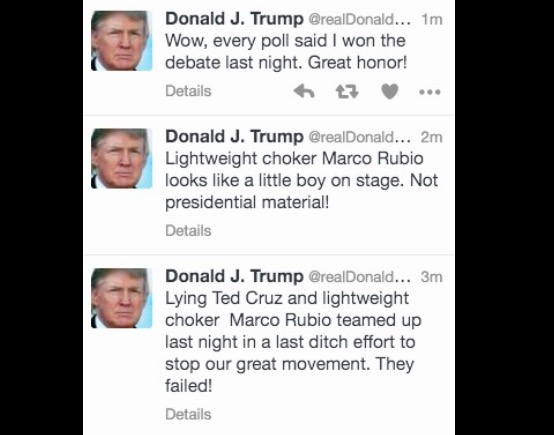 [image via Twitter]
—
J.D. Durkin is the Senior Editor of Mediaite.
This is an opinion piece. The views expressed in this article are those of just the author.