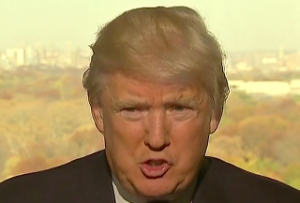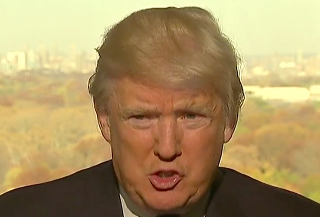 Donald Trump loves it when the media talks about him, so perhaps it should come as no surprise that he let BuzzFeed writer McKay Coppins trail him for 36 hours for a profile that ended up being focused on Trump's delusions of political grandeur. There's a lot of interesting anecdotes about just how inflated Trump's ego can get and how obsessive he can be over how the press treats him.
The main focus of the profile is Trump's political ambitions, most recently the rumblings that he is considering a run to be the next governor of New York. Coppins uses that to deliver a pretty blistering takedown of any ambitions, real or fake, Trump has ever had for high office.
The notion that he is simply too big — too presidential — for a measly job in the Albany Statehouse has temporarily quelled his insecurity. But after this morning, Trump can no longer escape the fact that his political "career" — a long con that the blustery billionaire has perpetrated on the country for 25 years by repeatedly pretending to consider various runs for office, only to bail out after generating hundreds of headlines — finally appears to be on the brink of collapse.
As you can imagine, that profile didn't exactly go over well with Trump. While the Donald himself has been uncharacteristically silent on Twitter about the profile, one of his representatives lashed out to TheWrap instead.
"It is a totally dishonest and unfair article, written by a politically irrelevant website," Trump's EVP and Special Counsel Michael Cohen told TheWrap. "From the moment the reporter entered the vehicle to the time he left Mar-a-Lago, his only goal was to write a negative piece."

"Mr. Trump is totally unfazed by this article," Cohen added. "Most people in his situation would have just said thank you to Mr. Trump for his graciousness and hospitality."
As Coppins himself pointed out, it's a bit strange that a representative for Trump would trash BuzzFeed as "politically irrelevant" when Trump was actually playing up and praising BuzzFeed in Coppins' presence.
"He's the biggest blogger in the world," Trump tells the man. "You look at him, and he's sort of handsome, but his power is immense." He turns to me. "Isn't that right?"

Before I can answer, he is facing the German gentleman again. "Have you heard of BuzzFeed?"

The man doesn't want to say no, but it's clear he's unfamiliar.

"It used to be the New York Times, now it's BuzzFeed," Trump explains. He pauses a beat, and then adds, almost wistfully, "The world has changed."
And apparently, so has Donald Trump's mind.
You can read the full profile here.
[photo via screengrab]
— —
Follow Josh Feldman on Twitter: @feldmaniac
Have a tip we should know? tips@mediaite.com
Josh Feldman - Senior Editor