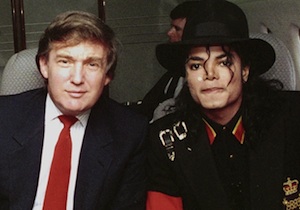 Donald Trump recently granted an interview with NY Post editor Fred Dicker in which he most notably denied reports that he'd be announcing his presidential plans during the season finale of his reality show Celebrity Apprentice. But perhaps the other noteworthy bon mot to come from the lengthy and candid interview was Trump's assertion that he's always enjoyed a great relationship with "the blacks." Efforts to confirm Trump's statement were fruitless as we could not find one individual who could speak on behalf of "the blacks."
Writing for The Observer, Azi Paybarah reports:
The show's host, Fred Dicker — who is also the New York Post's state editor, read a recent poll showing Obama's sky-high support among African-Americans.

Trump said the numbers were troubling and pointed to Hillary Clinton as proof that he probably won't get the kind of support among African-Americans that he deserves.

"I tell it like it is," Trump said. "[Y]ou'll hear a political reporter go on and say it had nothing to do with race. But how come she had such a tiny piece of the vote? And you know, it's a very sad thing.

"I have a great relationship with the blacks. I've always had a great relationship with the blacks. But unfortunately, it seems that, you know, the numbers you cite are very, very frightening numbers."

Dicker said, somewhat rhetorically, that votes should always be based on merit, not on race.

"If that were the case, why did Hillary Clinton do so poorly?" Turmp asked.
One wonders if the writers and editors at The Observer feel any specific burden to cover Donald Trump in a special way, seeing as he is not only a very active media figure, but also the father-in-law to Jared Kushner, owner of the NY newspaper and website.
Listen to the specific portion of the interview in which Trump discussed his race relations below, courtesy of Talk 1300AM:
(H/T
Observer
)
Have a tip we should know? tips@mediaite.com