'Don't Send Them A Dime': Tony Perkins Urges Cutting Off Donations To GOP Until They 'Grow A Backbone'
Tony Perkins Urges Cutting Off Donations To GOP Until They 'Grow A Backbone'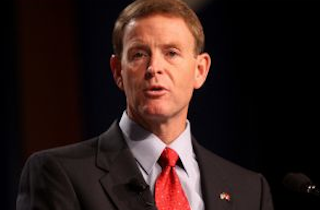 Tony Perkins, president of the Family Research Council, is urging political activists to withhold their donations to the RNC and other Republican organizations until they "grow a backbone." Citing the party's need to defend "core principles," Perkins said not to send them a dime, according to an email obtained by CNN.
"Until the RNC and the other national Republican organizations grow a backbone and start defending core principles, don't send them a dime of your hard-earned money," Perkins said in the email. "If you want to invest in the political process, and I encourage you to do so, give directly to candidates who reflect your values and organizations you trust — like FRC Action."
"Instead of trying to appease millennials, Republicans should try educating them on why marriage matters," he added. "There's an entire group of 'Countercultural Warriors' full of compelling young leaders who are all going to the mat to protect marriage."
CNN further noted that the Family Research Council joined 12 other groups in sending a letter to RNC Chair Reince Priebus, criticizing the committee for "marginalizing social conservatives and avoiding the issues which attract and energize them by the millions."
Pressed on gay marriage and the Defense of Marriage Act during a recent MSNBC appearance, Perkins asked, "If love becomes a definition of what the boundaries of marriage are, how do we define that going forward?" Saying he doesn't "fear" anything, he argued that children are better off when raised in a two-parent household with parents of the opposite gender.
Read the CNN report here.
Have a tip we should know? tips@mediaite.com