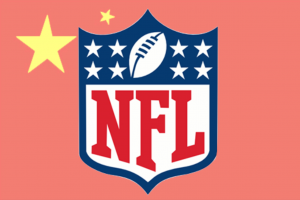 If Republican frontrunner Donald Trump has issues with China taking our jobs, he may be really upset when he finds out that the NFL is set to ship some of its regular-season games there as well (though it would be worth the price of admission to hear him say the word CHY-NA a few more times again).
The National Football League has pushed an effort for several seasons to bring its brand and popularity abroad. The once-rare games played at Wembley Stadium in London are now a regular occurrence, with teams traveling abroad every year for the much-hyped event. The league has already announced that a game in the upcoming 2016 season will be played in Mexico City, and now it seems as if China is the new frontier to bring the game.
According to ESPN, the league had longs been in talks to take at least preseason games to the country years ago, though balked at the consideration in favor of increased focus on London in 2009. NFL Commissioner Roger Goodell said recently that several teams were interested in making the trip, and the Rams franchise, newly-returned to Los Angeles, is reportedly on the short list.
However, ESPN notes that the China endeavors for the league are not unanimously praised:
Executives from teams such as the Green Bay Packers and New York Giants, two of the NFL's glamour franchises, are on the record with their objections. With so much at stake each week, there are concerns that flying half a day or more each way could put a team at a competitive disadvantage — for that game and beyond.
[h/t ESPN]
Have a tip we should know? tips@mediaite.com