Dr. Phil Tweets, Then Deletes: 'If a Girl is Drunk, Is it OK to Have Sex with Her?'
Television Dr. Phil McGraw is feeling the heat Tuesday after posting, and subsequently deleting, a question on Twitter that many are viewing a seriously disturbing. McGraw asked his has more than 1.1 million followers, "If a girl is drunk, is it OK to have sex with her?" and requested their feedback with the hashtag #teensaccused.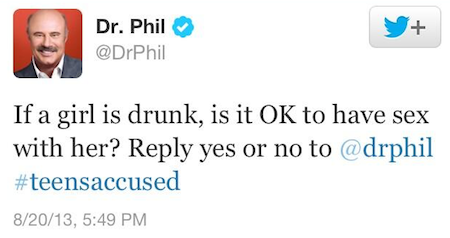 The responses he's received are probably not what he expected, ranging from people calling him out for insensitivity to wondering why exactly he needs an answer to this question so urgently.
Here are some of the best responses so far:
Aren't you married? RT @DrPhil: If a girl is drunk, is it OK to have sex with her? Reply yes or no to @drphil #teensaccused

— rob delaney (@robdelaney) August 20, 2013
Are you "asking for a friend"? RT @DrPhil: If a girl is drunk, is it OK to have sex with her? Reply yes or no to @drphil #teensaccused

— Andy Levy (@andylevy) August 20, 2013
@DrPhil As a girl, I enjoy waking up and not knowing who penetrated me the night before. #teensaccused

— TJ Marston (@teej_12) August 20, 2013
@DrPhil By law when alcohol is a factor, no one can consent. Don't know what's happening to you? It's rape, period. #teensaccused

— Meg (@BergaliciousMeg) August 20, 2013
Telling that @DrPhil finds a "Should you rape? Yes/no?" question open to debate. #rapeculture #teensaccused

— Abel Undercity (@AbelUndercity) August 20, 2013
@DrPhil if we are married is it ok? Circle yes or no and fire your social media intern. #TeensAccused

— Michael Buckley (@shutupbuck) August 20, 2013
@DrPhil The answer is No, Never you jackass. And then you kick whoever asked you in the throat. #teensaccused

— Lora Somoza (@LoraSomoza) August 20, 2013
Guys, Dr. Phil isn't really a doctor anyway.

— Philip Bump (@pbump) August 20, 2013
Send me a pic. RT @DrPhil: If a girl is drunk, is it OK to have sex with her?

— Joe Mande (@JoeMande) August 20, 2013
Dr Oz was saving lives today and Dr. Phil is trying to hook up with drunk girls where is @oprah she needs to have an emergency team meeting

— samir mezrahi (@samir) August 20, 2013
If Dr. Phil is drunk is it okay for him to tweet?

— Caissie St.Onge (@Caissie) August 20, 2013
If a person is a misogynist, is it OK to just refer to him as "Dr. Phil" from now on? #DrPhilQuestions

— Imran Siddiquee (@imransiddiquee) August 20, 2013
[screengrab via @mirkinsane]
—
>> Follow Matt Wilstein (@TheMattWilstein) on Twitter
Have a tip we should know? tips@mediaite.com