Dutch Reporter Confronts Santorum Spokesperson Over Alleged 'Forced Euthanasia' In Holland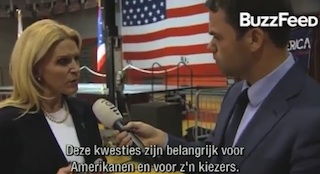 Erik Mouthaan, the US correspondent for the Dutch RTL Evening News, confronted Rick Santorum spokesperson Alice Stewart and peppered her with questions over the Republican hopeful's controversial remarks about how the Dutch "involuntarily" euthanized senior citizens who were "older and sick," BuzzFeed's Andrew Kaczynski reports.
RELATED: Dutch TV Anchor To Rachel Maddow: The Dutch Are Furious At Santorum Over Euthanasia Claim
"As a Dutch reporter, I have to ask you about something (Rick) said about Holland and euthanasia," Mouthaan began. "I don't know if you read about that on the blogs. He stated that people wear bracelets in Holland saying 'do not euthanize me' and that people are involuntarily euthanized, do you remember him saying that?"
"Yeah but a lot of these things is a matter of what's in his heart," Stewart he's a strong pro-life person, and that comes from life until natural death and that's where he is and those are the issues important to the people of America, and the people who come out to vote for him and that is strong pro-life from conception to natural death
"The government of Holland says the — embassy says — the figures he used are not correct, he gave a wrong picture of the Dutch euthanasia rules," Mouthaan explained.
"Rick is strong pro-life, he is for life from conception to natural death, and that is what the voters of America have stood behind him for and that's why he's getting support," Stewart replied.
"People say he's not using the right figures, he's telling the truth about the Dutch euthanasia law," Mouthaan pressed.
"Rick is strong pro-life, from conception until natural death," Stewart affirmed.
In February, Mouthaan spoke to Rachel Maddow about how Santorum had misrepresented his country's euthanasia laws.
Watch the interview below via BuzzFeed:

Have a tip we should know? tips@mediaite.com